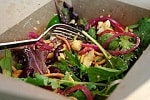 2016 Update: We still stand by the below advice — but if you'd like to check out our more recent discussion on how not to gain weight as a summer associate, you can check it out here. 
Summer is nearly upon us!  As law school, business school, and college  interns flood the workforce, calendars fill with networking lunches, team building meetings, and "get to know your coworkers" cocktail parties —  all with lots of food (and alcohol).  Reader A is particularly worried about the summer associate life in BigLaw:
I'm about to start a job as a summer associate at a Big Law firm. I've been told to expect daily lunches out, and been warned about the corresponding weight gain that usually happens. I'm particularly sensitive about not wanting to be the High Maintenance Associate–if I'm daily asking for "dressing on the side," will I come off as obnoxious? Any tips for navigating the summer? Thanks.
This is a great question, because the summer can be a really difficult time for both those being recruited and those doing the recruiting.  We've talked about business lunch etiquette before, and we've also talked about trying to diet while working a corporate gig — but now let's talk maintenance.  (Pictured:  Salad Lunch, originally uploaded to Flickr by 427.) Some tips: [Read more…]