As warmer weather swings into action, I thought now might be a good time to ask: what clothes do you buy each year? I haven't purposely bought Birkenstocks every year, for example, but when a friend (Auntie M, in fact) mentioned that she buys a new pair at the start of every summer I thought, yep, makes sense.
Do you have old favorite specific styles that you go back to — the same white sneaker or style of Birkenstock, for example — or do you tend to have "holes" that you fill, like new white shirts, 2 new dresses, a pair of nude-for-you heeled sandals — but you buy brand new ones every year depending on what's available and where you are? (On the flip side, as we're thinking about summer wardrobes for weekend and work — are there things that you've had for YEARS that you keep pulling out every summer and are still happy to wear it?) 
Pictured at top: Birks / blouse / hat / sandal / dress (all affiliate links; thank you for your support!)
For my $.02, I buy Birks every few years, but if I see a pair that for whatever reason I love — like the electric blue pair at the top of the page — then I'll splurge and get a new pair. I tend to look for new casual jersey dresses every year, but I check a rotating cast of places (stay tuned for our roundup of summer dresses, coming tomorrow hopefully). I went through a phase where I would buy a "cute hat" every year, like a fedora, but I frequently forget it and end up just using the soft baseball hat I keep in my bag. I also like to buy a few trendy/fresh white tops for work and opaque white t-shirts once a year, but I associate those purchases more with spring than summer.
Here's a mini-update of some fabulous white tops for work as of April 2022!

Hunting for opaque white t-shirts for work? As of 2022, we'd suggest checking the double layer lines from Boden and Express, as well as great sources for basic Pima cotton such as LL Bean, Uniqlo, Everlane, Universal Standard and Talbots. (This $268 tee also gets great reviews for opacity!)
As of 2022, the best spots to check for nude-for-you undergarments are Banana Republic, Gap, J.Crew Factory, Naja, or Nubian Skin for tons of options.
In terms of "category killers" for summer, I've been very happy with the same maxi dress for about a thousand years now (from Loft, with a keyhole, for what it's worth)… I also have one big, white, summery clutch (I guess that's the term for it? it's one of those sort of artsy bags that is huge but has very little storage space inside and has a short handle) that I got in London years and years ago that I pull out so rarely that it's still in great shape.
Unrelated to any season, I tend to buy new bras and other undergarments once a year, often during the Nordstrom Anniversary Sale — and I feel like one should buy a new pair of jeans pretty regularly to keep up with weekend trends (here's my whole theory about how denim trends lead all fashion trends). 
These are all the best-selling bras that readers love: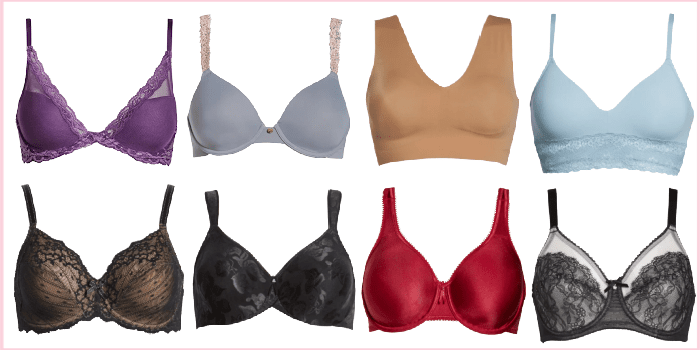 Ladies, how about you — what are you starting to think about buying for your wardrobe as summer gets under way? What things don't last so well from one year to the next (or get worn so much that you feel justified in automatically purchasing a new one)? On the other hand, what are some of the oldest things in your summer wardrobe?
This post contains affiliate links and Corporette® may earn commissions for purchases made through links in this post. For more details see here. Thank you so much for your support!