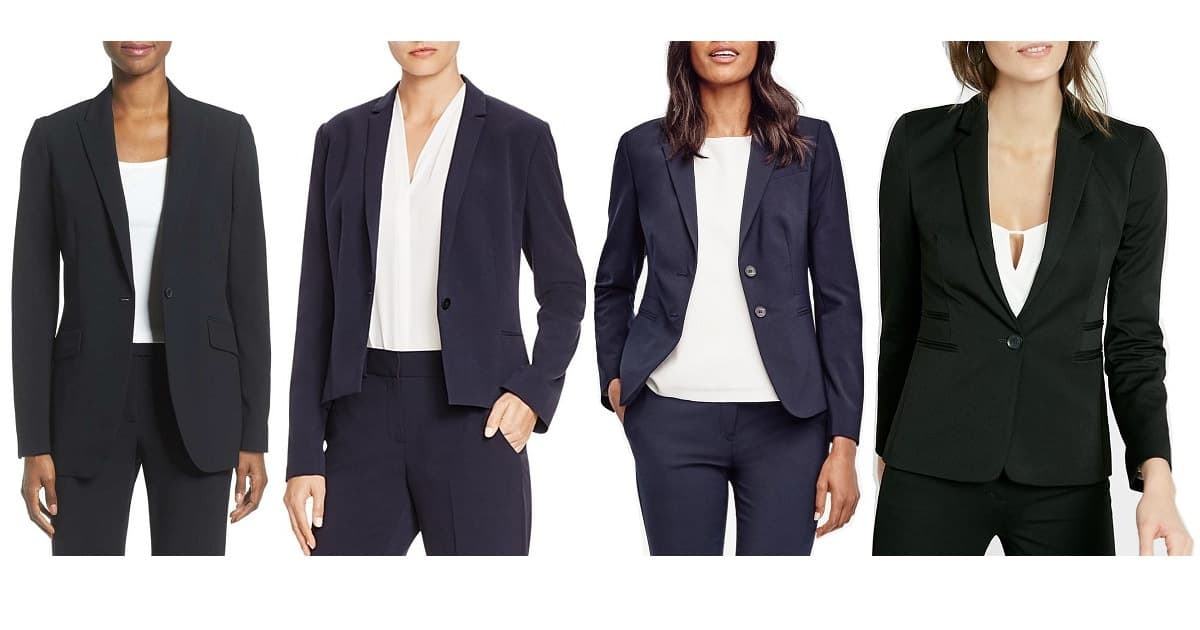 2019 Update: We still stand by these recommendations for budget-friendly interview suits; links have also been updated as of Jan. 23, 2019. You may also want to check out our roundup of the best women's suits of 2018 across every price point!
Sure, we all know what work wardrobe essentials professional women are supposed to have in their closets, but if you're buying one for the first time or replacing one you've worn into the ground, it can be a pain to find exactly the right incarnation in stores. In "The Hunt," we search the stores for a basic item that every woman should have. Today: we're hunting for budget-friendly interview suits for women!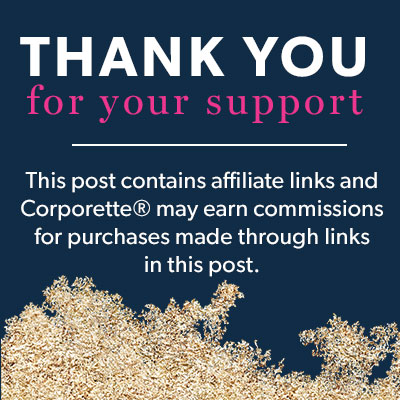 Obviously, we cover a Suit of the Week every week, and we have our regularly updated Guide to Interview Suits as well as our recent overview of brands of suits for women for every budget— but we haven't specifically looked for budget-friendly interview suits in a few years, so let's round them up! (Here's our last discussion on cheap interview suits, as well as our discussion of whether you can mix black separates to make a suit (noooooooo!). In general, if you're hunting for an interview suit, keep an eye out for options with a) suiting separates b) available in a solid, dark, neutral color, c) that fit your budget. By buying suiting separates you can get a better fit off the rack (such as by buying a size 10 pant and a size 12 blazer, and maybe even a petite skirt even if everything else is a regular size) — and you can make several outfits, particularly if there are two blazers, such as one that's collarless and one that's the traditional lapel+button. (If you have problems finding suits in your size range, check our Guide to Plus Size Suits, Tall Suits, Petite Suits, and Maternity Suits!) Readers, which are your favorite budget-friendly interview suits?
This post contains affiliate links and Corporette® may earn commissions for purchases made through links in this post. For more details see here. Thank you so much for your support!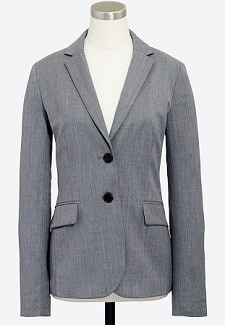 Hat tip to the commenters, who noted that J.Crew Factory has lightweight wool suiting — I don't think I knew that before! They have two-button suits, skirts, dresses with pockets, and trousers for $49-$75 per piece; they also have cotton suiting. Everything comes in sizes 0-20, in regular and petite sizes. (There are pros and cons to factory stores — if you happen to like them, note that Banana Republic Factory also has some great suiting options!) Pictured.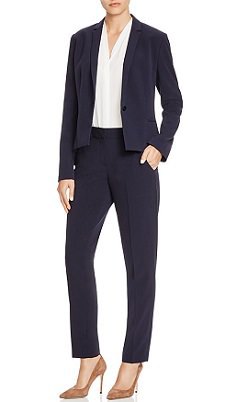 So many of my first suits were from T Tahari — so I'm happy to see that they now come in separates. Bloomingdale's has the widest selection currently, with tons of different styles of pants, skirts, dresses and blazers coming in black and navy. Prices range from $51-$118 right now. Pictured.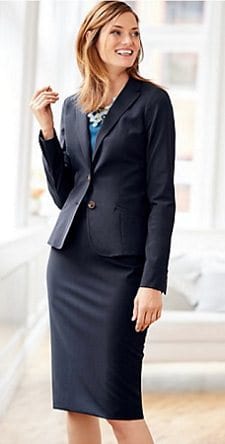 If you need a larger size range by way of petites, pluses, or plus-size petites, Talbots is your go-to — a LOT of readers love this suiting. Their seasonless wool suiting is what you want to look at — and if it's too boxy for you off the rack, do consider getting your suit tailored. (Here's our guide to suiting alterations to consider!) At full price, pieces are $129-$229 — but there are often sales. (As of this writing the range is $53-$119, plus extra discounts if you buy 2+ items and/or use a Talbots credit card.)
These Anne Klein separates (available at Nordstrom and Macy's) are great basic interview suits if you're on a budget — it doesn't get more classic than this. As a curvy girl I've often liked the fit for Anne Klein better than Calvin Klein, which has more of a straight fit. The price point is generally $69-$119 per piece. Macy's has a ton of similar options from similar brands that offer separates like Kasper, T Tahari, and Calvin Klein. Pictured.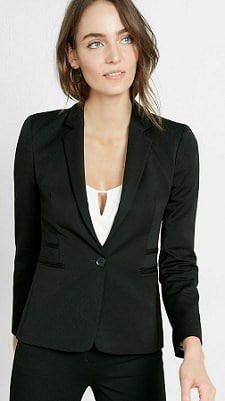 I hesitate to recommend Express suiting, even for budget-friendly interview suits, because I tend to associate it with looks that are often too tight and too curve-hugging — but if you know that going in you can be wary when picking out a suit. A major con to budget-friendly suit separates is that the pants can often feel frumpy (one of the reasons skirt suits can be easier!) so it's a major pro that Express blazers pair with their Editor and Columnist pants, loved by readers and on our list of great washable pants for work. Right now prices range from $79-$128. Pictured.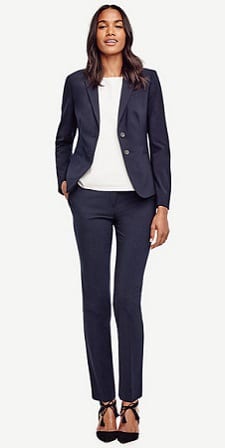 Ann Taylor, J.Crew, and Banana Republic are final options to consider if you're on the hunt for budget-friendly interview suits for women — they can feel a bit pricier, but are great first suits if you like the fit. For Ann Taylor, look for the tropical wool suiting or the all-season stretch — both will be great basics to take you from interviews to the first days on the job. Prices range from $98-$140 at Ann Taylor (with lots of different options for the fit of pants, as well as petite and tall sizes up to size 18). Meanwhile, over at J.Crew, note that they seem to be phasing out their longstanding suiting collection of Super 120s wool in favor of "Italian stretch wool" — do any readers care to give a report on the new stretch wool? (There are some crazy deals on lucky sizes on the older Super 120s inventory, fyi!) Prices on the Italian stretch wool collection range from $99-$248 plus, of course, any additional J.Crew sales. Another big option in this price range (and with tons of sales): Banana Republic! Their lightweight wool collection ranges from $98-$198, not including any BR discount of the day. Pictured.
Readers, what are your favorite styles and brands for affordable interview suits? What stores am I missing – have you found great budget-friendly interview suit at ASOS, Zara, Lord & Taylor, or any other stores? What do you look for in a suit for interviews?
Like this feature? Check out other recent installments, as well as our collection of best-selling styles in our Guide to Wardrobe Essentials for Work!
This post contains affiliate links and Corporette® may earn commissions for purchases made through links in this post. For more details see here. Thank you so much for your support.