Hot on the heels of our discussion about how not to gain weight over the summer recruiting season, we thought we'd round up some of the readers' top tips on dining etiquette, collected from our last discussion on the topic. Ladies, what is your top tip for dining etiquette? What etiquette mistakes do you see interns and summer associates making that you wish you could correct, and what mistakes did you make?
1. Don't be the odd one out. To prevent awkward situations, e.g., ending up as the only person eating an appetizer while everyone waits for you to finish so they can have their entrees, feel free to ask your colleagues if they're planning on ordering an app or starting with a main course. If they don't order drinks, don't order a drink. And, although it probably goes without saying, don't make a habit of choosing the most expensive thing on the menu.
2. Choose wisely. This classic advice is worth sharing: Don't order something that's hard to eat and/or likely to be messy.
3. Avoid appearing "high-maintenance." When you order, don't ask too many questions of the server (remember that waitress scene in "When Harry Met Sally"?), and don't make a zillion modifications to your meal.
4. Don't make a big deal about special dietary requirements. Meaning: a few questions or exclusions are fine — a 15 minute interrogation on different menu options isn't. Check out our posts on eating gluten-free or being the only vegetarian at a business lunch where there's nothing you can eat for more guidance. If you need to make a game plan, consider calling the restaurant ahead of time with your questions (so that you don't have to spend an inordinate amount of time explaining your requirements and ordering your food).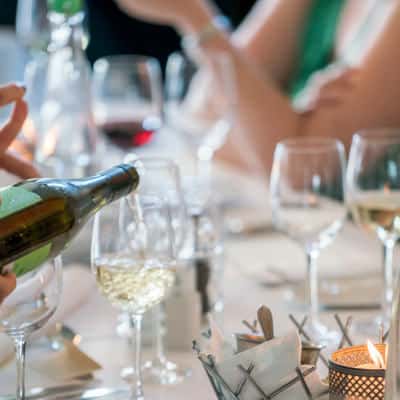 5. Go with the flow. Try not to eat much faster or much slower than others; you'll feel awkward if your plate is empty long before your colleagues' or if everyone's waiting around for you to finish.
6. Mind your manners. Put your napkin in your lap as soon as you're seated, and leave it on the chair if you have to get up for any reason (not the table). Don't pick up that fork until everyone's food has arrived — it's safest to wait until your host has started eating or invited everyone to do so. And treat the restaurant staff kindly; besides that the fact that it's just nice to do, it creates a good impression with colleagues.
7. Be prepared to make conversation. Take a look at the newspaper that morning and pick out a story or two to mention (not an ultra-controversial one), and maybe have a couple of work topics ready. And don't just talk about yourself — ask others about themselves as well.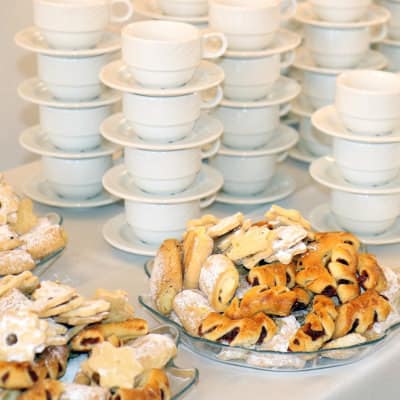 8. Make sure your shoes are walkable. If your regular office shoes are so high and/or uncomfortable that everyone has to slow down to match your speed, switch your lunchtime footwear to more comfortable shoes.
9. Choose your seat carefully. Try to avoid sitting where you'll be stuck only talking to one person. Is there someone at work you've been meaning to talk to? Try to sit near her. Here's a handy infographic about picking a seat at a table.
10. Limit your smartphone use. Put your phone on silent/vibrate and don't take phone calls during lunch. If you really have to keep an eye on emails, do it discreetly — and if you have to take a call, step away from the table and apologize sincerely upon your return.
Ladies, anything to add? What are your top tips for dining etiquette that young business women should know?
Updated for clarity.
Pictured at top: Pixabay.
All other images via Stencil.