2018 Update:  We still stand by these busty women style tips, but if you're a busty professional, you may want to check out some of our other content, including our most recent roundup of the best lingerie to buy at Nordstrom.
One of our top posts of all time is one a friend suggested I write, back in the early days of the blog: how to dress professionally if you're busty. We haven't offered busty women style tips in a while, so I thought we'd discuss. But let me be clear at the outset: there's nothing inherently unprofessional about being busty — women come in all shapes and sizes.  I'm not about to suggest you go buy a minimizer and try to pretend that you're a 34B.  But: dressing well while busty can be a challenge because so many clothes are made with other body shapes in mind — and for work it can be particularly trying since so many conservative styles are rooted in menswear. Furthermore, if you wear something that obviously does not fit or has fit issues (gaping, pulling) it reflects a judgement call. So — here are some new tips and guidelines on how to dress for work if you're busty, from someone who's been everything from a 30F to a 38G over the years…
(Pictured: If you're petite and busty this is yet another reason to watch Crazy Ex Girlfriend — her work outfits are mostly hits for me. The video this screenshot is from is hilarious ("Heavy Boobs"), but it is probably NSFW.)
Finding the Right Bra is Half the Battle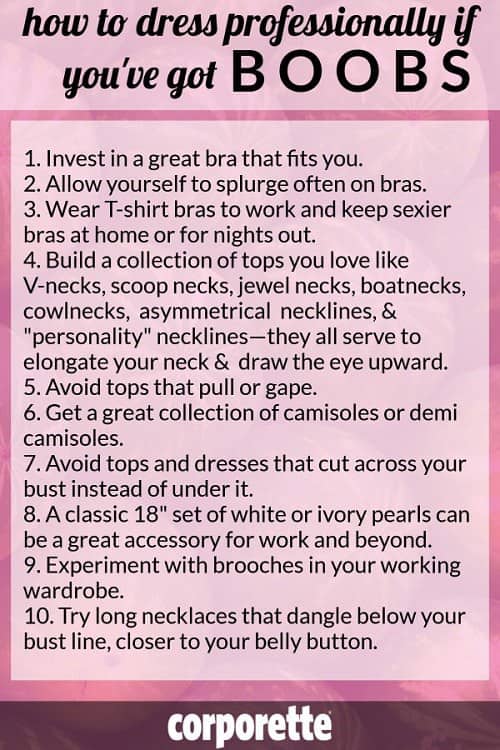 Invest in a great bra that fits you. The right bra will lift you up and support you. It will not give you quadboob. It may have an odd size that you've never even heard of before (28FF, for example).  The right bra will not make you worry about falling out of it when you bend over. It will not cut into your shoulders (that's a sign your band size is too big) or fall off your shoulders. (Note that your straps can be shortened at the tailor — and that you can check out lingerie brands just for petites, like The Little Bra Company, Lula Lu, or even the Bare Necessities special section for petites). A good bra will take work to find and may cost you some money, but it will be worth it in spades. I highly recommend going to a bra shop and getting fitted — think Nordstrom, not Victoria's Secret (link goes to to one woman's fitting experience at VS with lots of pictures; probably NSFW). In NYC I've used Bratenders over the years and La Petite Coquette — I've also heard great things about Linda's Bra Shop — and in London I've been fitted at Rigby & Peller. Ladies who have a favorite shop in your city, please shout it out in the comments. Once you know your size you can watch for sales; I tend to get new bras at Nordstrom's sales, Bare Necessities sales, or even sometimes Amazon.