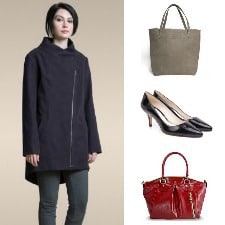 2017 Update: We still recommend these brands for vegan, non-leather clothing, shoes, and bags for the professional woman — but you may want to check out our more recent roundup of stylish vegan shoes for the office.
All right, ladies: If you're a stylish vegan professional (or are trying to be), which are your favorite vegan brands for workwear? We recently received a question from a job-seeking reader about sources of vegan workwear — both clothes and accessories. Fortunately, it's far easier to find stylish vegan professional workwear today than, say, 15 years ago. Before highlighting some brands, let's review what isn't vegan. Drawing from a post at The Compassionate Closet, here's a list of materials made from animals (ranging from the obvious to the ones you might not think of): leather, wool, suede, silk, cashmere, mohair, alpaca, angora, worsted, serge, tweed, down, velvet (non-synthetic type), gabardine (wool type), grosgrain (silk type), jersey (wool type), satin (silk type). 
A search for "vegan" at Zappos brings up 700+ items, and a search at Nordstrom shows 350 (of course, you can further sort by category), and sites like MooShoes, Ethica, and Vegan Chic bring together many vegan products in one place. (Related: our slow fashion shopping guide.) What sources have you found for quality vegan workwear, vegan dress shoes, or other musts for the stylish vegan professional? 
For those of you looking for vegan workwear brands that are specifically vegan-focused — not just animal-free by accident — we've rounded up six brands worth trying: