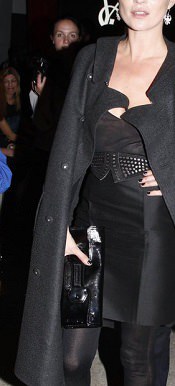 2017 Update: We still stand by some of this advice on how to weatherproof your work tote, but I just saw a much better solution: a $20 handbag raincoat. 
Is it possible to find a weatherproof work tote — a stylish, quality bag for work that won't be ruined by bad weather? How can you protect your bag from the elements? Reader C wonders…
Kat, I'd like to upgrade my work tote bag to something special but I worry about caring for it when commuting in rain and snow. The best thing about my 20 year old vinyl tote is that it's indestructible, but it's also pretty shabby. I'd like something classy but worry about the weather ruining it. Thanks for your advice.
We've talked about upgrading to a Prada bag (and upgrading your bag in general), what your tote bag says about you, how to lighten your load, the best bags for commuting (and the best bags for interviewing!) — but we haven't really talked about a weatherproof work tote. I'm curious to hear what readers say.
For my $.02, I honestly haven't worried too much about what weather will do to my bags. I have one haircalf bag that I probably did weatherproof, if memory serves, but the rest of my bags are leather or coated canvas. I wouldn't put them down in slush — and if I knew that the weather was going to be particularly lousy I'd probably switch to a different bag — but I'd be surprised if they didn't hold up if a bit of rain or snow got on them. If I truly got stuck in a freak rainstorm, I would try to put the bag into a plastic bag, or put it on my shoulder first and THEN put my coat on. Or, you know, do the coat-over-shoulders thing that celebrities do all the time (pictured, courtesy of PopSugar's roundup.) Another option: wear a ruana or scarf so you can drape it (or, hey, your coat) over the bag.
That said: I did ruin a bag once, and it still makes me sad. I'd long admired the brand's lightweight, chic tote bags — in saturated, fun colors of snakeskin and leather. I wore it to a pregnancy-related appointment, which meant I had a bottle of water in there — and somehow I left the bottle of water slightly open. It dumped all over the inside of the bag, and now I have a huge watermark around the base of the bag, virtually ruining it. (It's like that horror movie: the call is coming from INSIDE the house.)
So the lesson here: tighten the caps on your water bottles — but don't worry too much about snow and rain.
Ladies, what do you think — do you do anything special to protect your bags and totes from inclement weather? Have you found a great weatherproof work tote?