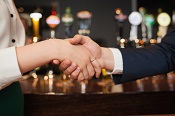 If you're new in the field, should you expect your boss to introduce you to her contacts and take you to networking events? How can you ask her to start helping you network? Reader S wonders…
I'm new in my career in a small office and my boss is well established in our field. She has wonderful contacts and is a member of many associations and groups. I had hoped my boss would take me under her wing a little and be a great mentor as I learn the ropes. Unfortunately, I have not be invited to join her at any of these events. Is it appropriate to ask to be introduced to her network and to accompany her to events? I don't want her to feel threatened that I'm looking for better opportunities, but I think it's important to get to know the industry players as well.
Great question, S! We've talked about how to network when you're junior, how to get networking help from an adjunct professor, how to network at a conference, and how to know which networking organizations to join, but we haven't talked about this before.
I've been fortunate to have several bosses who did take me under their wings and introduce me to people, set up lunches for me or including me, and even suggest which networking events were "worth" going to or not. A boss like that is gold. That said, every single time I was included, or that my boss helped me network, I felt completely honored and grateful — I never expected it. I'm curious to hear what the readers say here, but for my $.02 Reader S, new in her career, may want to reset her expectations from "the default is my boss will help me" to "the default is I have to help myself."
That said, how can Reader S express her desires to network more with the boss's network? This depends heavily on her field, as well as which events require money (conferences can be expensive; so can air fare) as well as, to a certain extent, the particular personalities involved at each event. A few thoughts for Reader S:
Ask your boss which associations and groups she's found most helpful in the field, and then join them yourself. Ask her which committees within the associations are best (there may be a pecking order and you may have to join a lesser committee to work you way up to a better committee), and even who you should talk to at the next meeting. Even if she'll be at the meeting herself, assume that you are going and leaving by yourself, as well as that you'll be networking by yourself at the meeting.
If she does invite you to an event, remember your place — your goal is to reflect well on her, and your hope is that MAYBE someone will remember your name or face the next time you see them. I know it sounds crazy, but I've been to events like this with people and heard them complain about numerous things, go on about other places they could have been, or even joke about the person who invited them.
 If your job requires outreach of some sort — to clients, to members, to other branches within the same company — ask her for 15 minutes to pick her brain about who you should invite for breakfast or lunch meetings to get to know on a face to face basis. I would think it would be presumed that you can drop her name in your email ("I'm new here, and Anne Jones suggested you'd be a great person to get to know better — may I take you to breakfast sometime next week?") but you may want to check with her.
If there is a huge networking event, such as a conference that costs money to attend, offer to pay some part of it yourself instead of expecting the company to pay it for you. For example, offer to pay airfare and lodging yourself, but ask if the company could buy you a ticket to the conference.
This can take a LONG time to get people to know your name or even your face, and longer still before people start looking to you as a player / resource.
Readers, what has your experience been with bosses helping you network? If you are a boss, how do you view requests from subordinates for networking help? 
Photo: wavebreakmedia/Shutterstock.