Now that we're a few days into the new year, we thought it'd be a great time to round up six books to help you achieve your New Year resolutions for your career. Whether you're aiming to
get a new job
,
negotiate a good salary for a new job
(or
ask for a raise
),
get better at delegating to subordinates
,
find sponsors at work
,
improve your executive presence
,
deal with difficult coworkers effectively
, or just improve your job performance, these are worth a read. If you've already decided on your career goals for 2018, or you're still thinking about what you want to accomplish this year, these six books can help you figure out how to do just that.
This post contains affiliate links and Corporette® may earn commissions for purchases made through links in this post. For more details see here. Thank you so much for your support!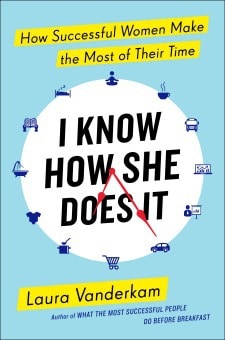 I Know How She Does It: How Successful Women Make the Most of Their Time (2017) by Laura Vanderkam I Know How She Does It (not to be confused with I Don't Know How She Does It, a novel about an overwhelmed working mom) is the product of Vanderkam's look at the detailed time logs (1,001 days' worth) of working moms who make at least $100,000 a year. From analyzing the women's schedules, Vanderkam came up with several strategies to share with readers who need help in achieving more balance in their lives. KJ Dell'Antonia, former editor of the NYT's Motherlode/Well Family, called it "the most positive take on work and family [she's] read in a long time," and its Amazon reviews give it 4.2/5.0 stars. (Note that Vanderkam also wrote 168 Hours: You Have More Time Than You Think, which doesn't focus exclusively on working mothers.)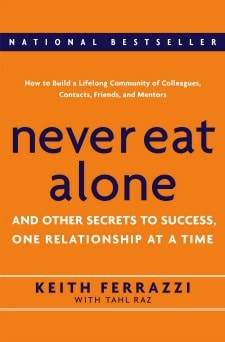 Never Eat Alone: And Other Secrets to Success, One Relationship at a Time (latest edition 2014) by Keith Ferrazzi In Never Eat Alone, Ferrazzi (who runs a management consulting firm) focuses on "the power of relationships" and explains how to reach out to people and make connections — not just for your own benefit, but for the benefit of those in your network as well. Publishers Weekly's review noted positively that "no one will confuse this book with its competitors," and Never Eat Alone has 4.1/5.0 stars at Amazon.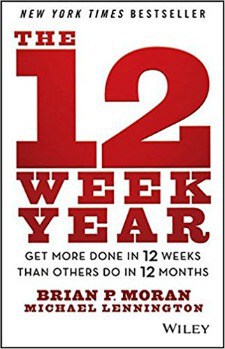 The 12 Week Year: Get More Done in 12 Weeks than Others Do in 12 Months (2013) by Brian P. Moran Speaking of New Year's resolutions: In The 12 Week Year, productivity expert Moran criticizes the tradition of making annual goals and plans — "annualized thinking," he calls it — and encourages readers to consider 12 weeks to be their "year" instead. Moran, who claims that his approach can help you get more accomplished in the time you have, explains how to structure your routines to make every day count, set goals, and increase accountability. The book currently has a 4.6 review score at Amazon.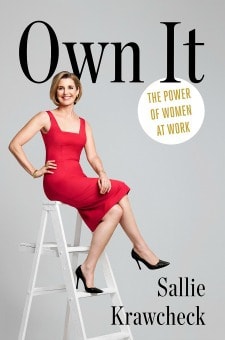 Own It: The Power of Women at Work (2017) by Sallie Krawcheck As Own It publisher Random House puts it, this book is "a new kind of career playbook for a new era of feminism." Krawcheck, the CEO and co-founder of the women's investment website Ellevest, explains how women can find success by ignoring and rewriting the "old rules" — to stop trying to act like men at work and to instead rely on your own skills and strengths to advance in your career. You can read excerpts of Krawcheck's book at the Ellevate Network and at The Globe and Mail. Own It currently has a 4.3/5.0 at Amazon.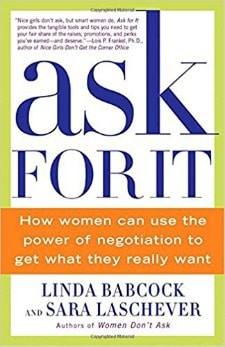 Ask For It: How Women Can Use the Power of Negotiation to Get What They Really Want (2008) by Linda Babcock and Sara Laschever In Ask For It, the authors of Women Don't Ask: Negotiation and the Gender Divide teach women how to negotiate effectively by explaining their four-phase technique and using real examples of professional women who were able to negotiate successfully. They give advice on developing a strategy, dealing with the answers you end up receiving from your attempts, and more. The book blurb written by Lois P. Frankel, Ph.D., the author of Corporette reader favorite Nice Girls Don't Get the Corner Office: Unconscious Mistakes Women Make That Sabotage Their Careers, says, "Ask for It provides the tangible tools and tips you need to get your fair share of the raises, promotions, and perks you've earned — and deserve." The book has a 4.4/5.0 at Amazon.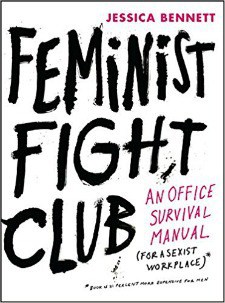 Feminist Fight Club: An Office Survival Manual for a Sexist Workplace (2016) by Jessica Bennett As you can guess from the title, Feminist Fight Club, which was named to "best of" lists in 2016 by the Chicago Tribune, Refinery 29, Forbes, and others, takes a bit of a different approach than the books above. (Broad City's Ilana Glazer calls it "a classic, f*ck-you feminist battle guide.) The book has advice on dealing with sexism and other gender-related issues at work — including coworkers such as the Manterrupter and the Himitator (otherwise known as a He-peater) — and offers Feminist Mad Libs, a Negotiation Cheat Sheat, and more. It has a 4.6/5.0 on Amazon.
If you've read any of these books, would you recommend them to other women? Have you found any other career books to help achieve your New Year resolutions that you'd recommend? What are your career goals for 2018? How did you do with your career resolutions for 2017?
Psst: In the past we've talked about must-read business books for women, the best books for becoming a better manager and becoming a better communicator, helpful leadership resources for women executives, the best reading for women MBA students, the best online women's management training, the best TED Talks for working women, Kat's and readers' favorite podcasts, and Kat's favorite articles for working women. (We also had a reader discussion of The Confidence Code: The Science and Art of Self-Assurance by Katty Kay and Claire Shipman, as well as a discussion of Lean In, by Sheryl Sandburg.)
Image at top and social media image via Stencil.