2019 Update: We still like a lot of these lightweight pants for work, but you may also want to check out our more recent roundup of stylish summer dress pants for women, as well as our more general discussion of the best pants for work.
Which are the best lightweight pants for a work — specifically, a business casual office? For some of us, the warmer months mean biking, hiking, kickball, competing in triathlons, and many more activities that are likely to leave us with a few scratches, bumps, and bruises. If you aren't crazy about putting those bruises on display at work, and prefer to wear pants to cover your legs, which are the best for business casual summer workwear? Reader M wonders…
With all the sports and activities I do, I need to reconfigure my work wardrobe to be trousers-only. I bruise way too easily to wear skirts often, especially in the warmer months. I need to start almost from scratch with a business casual summer wardrobe, any suggestions? Thanks!
I bruise easily, as well, M, so I'm sorry to hear that. I think you're right to want to cover your bruises for work — they can be a distraction for your colleagues as they start wondering how you got them. (This mountain-biker was even cornered by her boss who worried she was being abused.) If you work in such a small office that everyone you come into contact with knows that you're bruised from sports, that's one thing — but that doesn't sound like the case for M.
So, some thoughts on lightweight pants for work in a business casual environment: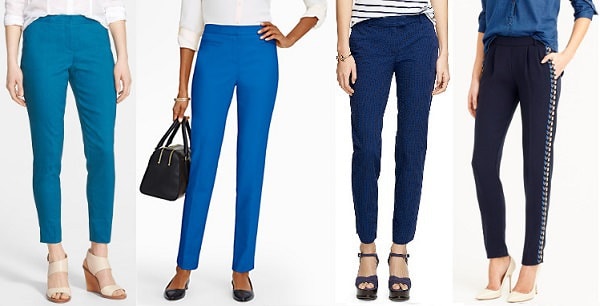 It now occurs to me that I have unwittingly collected only blue pants for the picture above. They come in other colors, I swear. Pictured: 1 / 2 / 3 / 4.

Ladies, which are your favorite lightweight pants for work? Which materials are your favorite, and what do you look for? 
This post contains affiliate links and Corporette® may earn commissions for purchases made through links in this post. For more details see here. Thank you so much for your support!