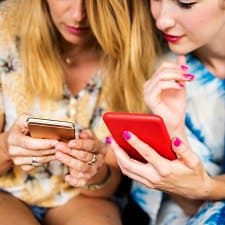 Whether or not the current issue of separating immigrant families at the border has contributed to your outrage fatigue or spurred you into taking action (and/or brought you to tears, as it did even for an on-the-air Rachel Maddow), you may be looking for small political actions to take each week to make your voice heard — no matter what party you're in.
In the meantime, you might find it helpful to read our posts on the benefits of meditation, how to relax after a stressful day, how to take a partial social media break, how to focus on work (when other things are going on) … and, for very simple stress relief in general: coloring books for adults. If you want to get even more involved, check out our resources for women running for office.
Here are four websites that make it easy to learn about small political actions to take each week — plus one bonus site that helps you make a difference in other ways. If you know of any other groups with small political actions to take weekly or daily, we'd love to hear about them!
This site, which was created by the Creative Majority PAC (which is run by artists, musicians, and writers and assisted by MoveOn.org) sends daily action alerts by text to its subscribers — and they aren't solely requests to call your representative. To start receiving them, text the word DAILY to 228466 (or just sign up on the site). One recent example: Call a company that's in the position to profit from the separation of immigrant children from their families and tell them you won't support them until they stop contributing to ICE's actions.
Writer Jennifer Hofmann puts together a non-partisan weekly email with actions to take on issues such as voting access, equality for all Americans, respectful treatment of immigrants, and so on — with the philosophy that "We're Americans first and party second." This week's email suggests actions like asking your elected officials to hold town halls in July, or thanking the five Democratic and Republican senators who "mov[ed] to curb executive branch overreach by limiting President Trump's authority on tariffs " — along with many other things to do.
This site is an open-source project made by volunteers that encourages people to go beyond easy online efforts (retweeting, etc.) and call their representatives. You can sign up to get weekly email alerts that give you a phone number and short script regarding key issues such as "Demand Homeland Security Secretary Kirstjen Neilsen's Resignation" and "Protect the Affordable Care Act and Its Protections for Preexisting Conditions." You don't have to sign up to get information on actions like these, though — just check the site and click on a particular issue that's important to you.
I really like the mission of this site (which is run by a small team): "to help those feeling overwhelmed, daunted, and disheartened to engage in meaningful civic activism." (Really, how many of us does that apply to?) You can sign up to receive a few emails a week that offer 5-minute, 10-minute, and 30-minute activism "workouts," meaning you may be encouraged to educate yourself on a key issue, call your representative, attend a political rally, etc. Here's a recent example.
Charity Navigator's tagline is "Your Guide to Intelligent Giving," and we linked to it in our post on how to help charities by donating money, time, or something else. If you want to take action but your time and/or mental energy is significantly limited, you can use this site to help you decide where to donate (according to an organization's financial health, accountability, and transparency). Find a particular charity's score or use the site's Giving Basket tool, which allows you to donate to multiple charities at once, give anonymously (if you prefer), and get a single tax receipt. This is a good option if you want to make a donation without ending up with piles of unsolicited mail (really, who needs more return address labels?), because you can choose how much personal information, if any, to share with each charity. (Here's a general donation tip: Money given to a 501(c)(3) is tax-deductible on your federal return, while money given to a 501(c)(4) is not.) By the way, you can also try GuideStar, the BBB Wise Giving Alliance, and CharityWatch. 
Have you found a good way to learn about small political actions to take each week? Have you signed up for email or text alerts that share them? Have you limited your consumption of news or stopped using social media because of outrage fatigue or other reasons? What are your favorite non-partisan organizations that are taking political and community action in ways you admire?