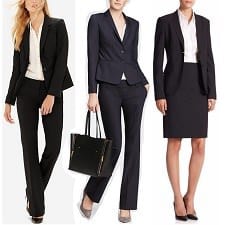 2018 Update: If you're looking for great suits for women, please check out our updated guide to the best women's suits of 2018, as well as our Guide to Interview Suits. 
Which are the best brands for basic, classic-cut suits for women — worthy of use as interview suits and other outfits for important, career-advancing events? We haven't talked about simple women's suits in ages, so I thought we'd discuss. (Update: check out Part 2 of this post, featuring plus size suits, petite suits, tall suits, maternity suits, and independent suiting companies!) First, some general notes on buying a suit:
(Pictured at top: The Limited (now closed), Ann Taylor, Boss.)
Budget Suits For Women (under $250 for both pieces)
Note that the two big risks with a budget option will be frumpiness on one end — and "sexy secretary"/ formality problems on the other. Try to look for a material that drapes well, doesn't wrinkle, isn't too seasonal (such as a cotton suit — a tropical wool or triacetate will go farther) — and be wary of trendy cuts like collarless jackets, huge slits in your skirt, cropped pants, and more.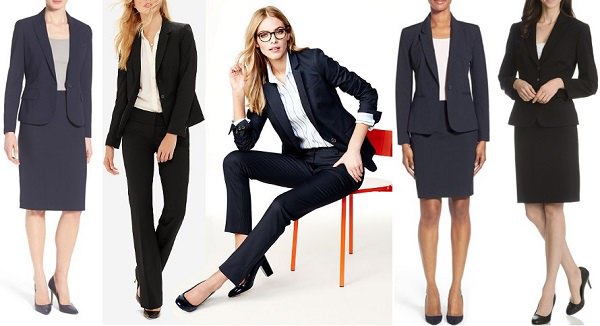 Pictured: one / two (now sold out) / Lands' End / Halogen / Tahari
Mid-Range Suits For Women (reliably under $500 for two pieces)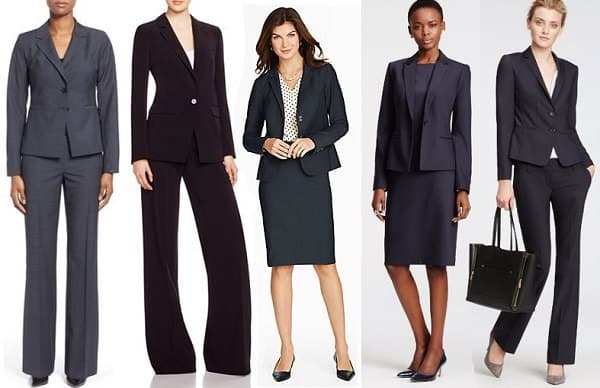 Pictured:  Classiques Entier / Michael Michael Kors / Talbots / Ann Taylor / Ann Taylor
Classy Suits For Women (Fancy Affordable)
For many women this is going to be the first "splurge" suit — two pieces will cost you more than $500, but less than $1000.
Pictured: Theory / Boss / Reiss / Elie Tahari / Lafayette 148 New York 
Designer Suits
All of these brands are classics for designer workwear — when you win the lottery, stop here first.  Brands in this bucket who might have a classic, simple suit: Armani, St. John, The Row, Max Mara, Akris, Escada, Michael Kors, Donna Karan, Joseph, Helmut Lang.
Pictured: Armani / Escada / Akris / The Row / St. John / Dolce & Gabbana
(Stay tuned for Part II where we look at the best suiting brands for plus sizes, petites, tall women, slow fashion suiting, and boutiques/independent brands)…
Ladies, what are your favorite suiting brands for basic, classic interview suits? For those of you who've bought suits for women across the different price ranges, what differences have you noticed in quality? What pieces are the most worthy to stalk at sales and on eBay?