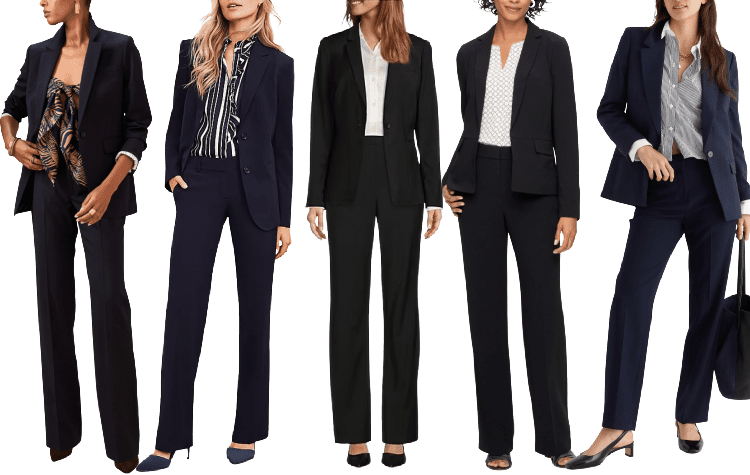 Our favorite mid-range suits for women as of 2023: one / two / three / four / five
Which are the best brands for basic, classic-cut suits for women — worthy of use as interview suits and other outfits for important, career-advancing events? We haven't talked about simple women's suits in ages, so I thought we'd discuss.
(Update: check out Part 2 of this post, featuring plus size suits, petite suits, tall suits, maternity suits, and independent suiting companies!) 
This post contains affiliate links and Corporette® may earn commissions for purchases made through links in this post. For more details see here. Thank you so much for your support!
General Tips on Suits for Women
First, some general notes on buying a suit:
When constrained by budget: go for a black skirt suit rather than a pants suit, because pants fit is by far the hardest thing to get right. In my experience a $60 skirt suit looks OK but a $60 pants suit makes you look like you come from Planet Frump.
Furthermore, the skirt suit will go farther — you can wear the pencil skirt as a basic bottom in your wardrobe (but always dryclean all pieces of a suit together!), plus if you have a "dressed up" occasion, a skirt suit is always going to be the more formal option. Another pro for a simple pencil skirt: you completely bystep the trends that pants have been subject to the past few years — to shop online you'd think that cropped pants suits are de rigueur now, but they are still a fringe/trend item in a lot of workplaces.
Other trends I've seen with suits: jumpsuits! culottes! short suits! You want 1) a pencil skirt + hip length jacket or 2) a fitted sheath dress + hip length jacket — these combos have been in for years and probably will be for years to come.
If you're shopping online, look for words such as: seasonless wool, stretch wool, tropical wool, gabardine, triacetate. Avoid words like sateen, shimmer, linen. Crepe can be really tricky — sometimes it means a polyester drapey blend for suiting and sometimes it means a bridesmaid's dress/MOB type thing.
If you're busty: traditional wisdom here is that you want more buttons on your blazer, not fewer. I'm plenty busty and have had some favorite one-button jackets over the years, though, so your mileage may vary here. Depending on trends you can sometimes find suits with as many as four or five buttons. But avoid zippers instead of buttons on jackets — they look wrong more than they look right.
Please do not wear sandals with a pants suit. It just looks really weird to me, but perhaps I'm alone there. I would argue that if you're at a dressy enough occasion to require a suit, sandals will always be inappropriate.
Treasure hunting for a suit (where you MAY or may not find something good): T.J. Maxx, Yoox, ASOS, Off Fifth, and Nordstrom Rack
Consider taking your suit to the tailor. Common suiting alterations include shortening sleeves, adjusting the waist. Note that the blazer (specifically the shoulder/arms) are the hardest part to tailor, so focus on that fit when you're shopping.
Please don't forget to cut your Xs, always dryclean suiting pieces together, and — if you're wearing the suit somewhere Very Important like an interview, make sure you use the mirror trick.
For other tips on buying a basic interview suit (including considerations on colors, care, accessories, layering, and more), please check out The Corporette Guide to Interview Suits.
(Pictured at top: The Limited (now closed), Ann Taylor, Boss.)
Budget Suits For Women (under $250 for both pieces)
Note that the two big risks with a budget option will be frumpiness on one end — and "sexy secretary"/ formality problems on the other. Try to look for a material that drapes well, doesn't wrinkle, isn't too seasonal (such as a cotton suit — a tropical wool or triacetate will go farther) — and be wary of trendy cuts like collarless jackets, huge slits in your skirt, cropped pants, and more.
Anne Klein (separates) – Nordstrom has a few Anne Klein suits; Macy's also carries them. They also have an exclusive line at Macy's called "Anne Klein Executive," but note that those are full suit sets, not separates. Pictured above: pantsuit and a skirt set from the Executive line.
Banana Republic Factory – Like J.Crew Factory, BR's outlet sector has a lot of good finds for work, particularly on the more affordable, classic side of things. Note that because these pieces may be produced just for the Factory Store it may mean that there are differences in fit and quality — so keep that in mind when ordering.
Calvin Klein (separates) – It's next to impossible to find a good link to one online, but Calvin Klein suiting separates are also sold at Macy's and are pretty reliable; here's a link to the classic two-button blazer. (Amazon also has a ton of them, many of them eligible for Prime Wardrobe (here's Kate's recent review of Prime Wardrobe).
Chadwicks – I have no experience personally with these suits, but some of the blazers are under $20 (!) and the brand offers regular, petite, plus, and tall sizes — and they have suiting separates.
Kasper (separates) and Tahari (separates) – Kasper used to specialize in full suit sets, but in recent years they've had a line of separates for sale, which is great for people who want, say, a petite-sized blazer but a regular-sized skirt. I haven't tried them on for quality or fit, though. (Pictured at top: Tahari.)
Kasper / Tahari / Le Suit (not sold as separates) – You can find huge deals on these brands at places like TJ Maxx, Kohl's, Macy's, Lord & Taylor, Smart Bargains, and Overstock — but it's very hard to break the pieces up and wear them as separates, at least in my experience. If you need a skirt suit for under $100 all in, though, these brands are the first places I'd look. Note that because these suits are sold as one product (rather than as separates) you usually have to pick a single size — if you're a 10 on top and 14 on the bottom, for example, this is not going to be the way you want to go. In my experience these suits may trend towards the frumpy side, particularly as pantsuits — in a skirtsuit the fit issues will be less noticeable. (You may also want to check out our guide to suiting alterations!) Pictured above.
Express – If you're a fan of their Editor/Columnist pants, do check out their matching blazers and other suiting options. As always with these brands, watch or fit — but note that Express has been stepping up their workwear game lately, so these may be a great option if you're looking for an interview suit on a budget. Pictured above.
J.Crew Factory – J.Crew's factory outlet is a great source for workwear, particularly affordable wool suiting separates — inventory comes and goes, but when it's in stock it's pretty great.
Lands' End – Particularly if you're looking for a washable wool blazer in a wider size range (such as tall, petite, plus or cusp sizes), Lands' End can be a great, affordable option.
Loft – Sometimes you can get a basic dark suit here, although I'd be worried about wrinkling and trendiness/formality (compared to other options, like Tahari or Anne Klein)
Mango – Mango has really stepped up their office wear line recently, including a ton of suits and more. Pictured at very top of post.
Nine West (separates) – I usually think of Nine West as selling "fun" suits in classic cuts (like bright pink ones) but from time to time they have neutral suits. If you see one on the rack in a color you like but are hesitant to try because you think Nine West only sells affordable shoes, think again… Nice options in stock right now: two-button stretch and a clasp-front blazer.
NY & Co. – I'd be wary of the fabric and fit here, so it's hard to recommend them online — but if you have a store near you, these are some of the most budget-friendly suits you can get. They have a line called "all-season stretch" that would be the place I'd start. Here's a nice option.
White House | Black Market – Their suits tend to be more trendy than classic, but they do have a line of seasonless suiting (and in plus sizes as well!).
Bonus notes: Brands that regularly make "fun" suits that may occasionally have neutral suits include ASOS, H&M, Nine West, Topshop (also at Nordstrom), Zara. Also, a sad trombone for The Limited, which used to be one of our favorites in this space — the company went bankrupt and was sold, and while they do have inventory right now it's mostly non-suiting pieces — and judging by the number of "everything for $11!" sales we've seen, they're still working out kinks in sizing, fit and quality. Still, keep an eye on them — we're rooting for them to come back!
Mid-Range Suits For Women (reliably under $500 for two pieces)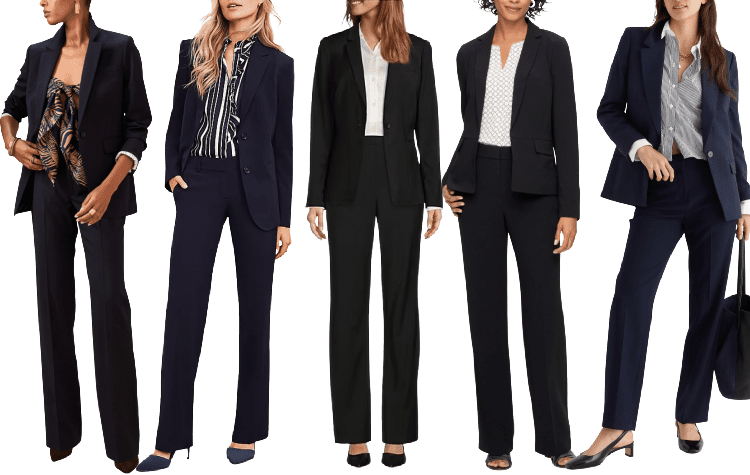 Our favorite mid-range suits for women as of 2023: one / two / three / four / five
Ann Taylor – Ann Taylor currently has a lot of their tropical wool blend in stock, a "lightweight wool blend and is good for any season" — they also sell a polyester blend "seasonless stretch" suiting fabric, as well as (occasionally, online only usually). Watch for sales (historically they've had them early June), but note that it's hard to go wrong with Ann Taylor for your first major suit. Here's a nice option.
Antonio Melani – Dillards' line of workwear is a solid option if you like the styles or if you can find them in the store.
Austen Reed – This British brand has brought back their line of suits for women — I believe they were recently sold, though, so you may want to consider this a "new" brand in terms of size, fit, and quality.
Banana Republic – I've really been liking a lot of BR suits lately, and it's great that they've got a ton of machine washable suits — they can be very difficult to find! Here's a nice basic option.
Brooks Brothers Red Fleece – Red Fleece, Brooks Brothers' "little sister" line, often has great options for basic wool suiting and other workwear staples — sometimes with a cheeky twist; sometimes not.
Boden – I normally think of Boden for fun suits, but they do have some more traditional options as well, such as this one. (Don't forget to check out our recent roundup of how to build a work wardrobe at Boden!)
J.Crew – Distressingly, J.Crew's suits section now has a ton of dresses and very few suits. (In fact, their Super 120s suiting seems to be on the way out entirely, but you can still find a few pieces in the sale section.) Their stretch wool selection seems to be the most basic you can get, but note that at the moment they're down to lucky sizes as well.
Of Mercer – This workwear indie has a solid section of suiting section with blazers topping out around $250.
Talbots has been gaining in reader popularity over the years — note that if you're hard to fit, they often carry multiple suit separate options in regular sizes (often up to 18 or 20), tall, petite, plus sizes, and (holy grail of rareness here), plus size petites. Do check out their line of seasonless wool suiting (pictured). (Don't forget to check out our recent roundup of how to build a work wardrobe at Talbots!)
Classy Suits For Women (Fancy Affordable)
For many women this is going to be the first "splurge" suit — two pieces will cost you more than $500, but less than $1000.
Brooks Brothers – They don't seem to have anything terribly classic in stock online at the moment, but this brand is obviously a stalwart for women's suiting.
Elie Tahari – This is the parent brand to everyone's starter suit, Tahari – the prices are much steeper but so is the quality and the cut. They have a lot of stores in malls, but you can also find the brand at Nordstrom, Bloomingdale's, and Saks.
The Fold London – I mostly think of this brand for their gorgeous origami-like top, but they make a lot of neutral suiting and other tailored pieces, so if you're looking for something different (or happen to be in London), keep the brand in mind.
Hobbs – This British brand has a few locations stateside, and carries a lot of gorgeous workwear, including some nice basic suits. Note that Bloomingdale's also carries the brand. (Another general note if you're looking for washable clothes — many, many of Hobbs's dresses and suiting separates are washable.)
Hugo Boss – My admiration for this brand has only grown the more I've done this blog — everything they do is beautiful quality, extremely classic and stylish. They have stand alone stores, but you can also find that at Nordstrom and Bloomingdale's.
Lafayette 148 New York – If you've got curves or are in need of cusp sizes (16, occasionally even 18), take a look at Lafayette 148 New York — the quality is lovely but the cuts are much more forgiving. Their suiting pants are incredibly highly rated at Nordstrom, as well. You can also find the brand often on deep discount at Last Call and OFF5TH.
LK Bennett – This British brand has a ton of tweed suits and feminine suiting options, but they also carry neutrals — if your goal in your interview is to feel like a super confident Kate Middleton, this is where I'd go.
MM.LaFleur – This brand nearly went in the above tier, but two pieces would be around $600, so technically it's in this one — particularly since the odds are slim for finding MM LaFleur's pieces on sale (although you may be able to find them used for less money). The independent maker of the reader-favorite jardigan as well as some of our favorite sheath dresses just launched a suiting section. Pictured.
Reiss – This British brand is always droolworthy for me — they specialize in classic takes on modern styles. Note that their fits can be a bit body conscious. Note that Bloomingdale's also carries the brand; also that the sale/outlet section on their site has some amazing deals. Here are two nice options.
Ted Baker – Another British brand that is fabulous if you want a slightly feminine take on a basic suit. They have a lot of mall stores as well, but you can also find the brand at Nordstrom.
Theory – The classic — but be warned, if you have curves you may have to size up here. Their traditional blazer is still available, but you may also want to look at the "clean" blazer or the "modern" blazer. If you're confused about the differences between the Theory fabrics or the cut of different jackets or pants, take a look at this post. Note that you can also find the brand at a lot of spots, including Nordstrom, Bloomingdale's, and Saks. Here's a nice option.
Sportmax – This brand is hard to find online, but if you happen to see a store, do pop in — the fabrics and cuts are amazing, and a suit should run you less than $1000. (The brand is owned by the same company that owns Max Mara.)
Fun, trendy brands that might have a suitable interview suit: Rebecca Taylor, Tibi, Trina Turk
Designer Suits
All of these brands are classics for designer workwear — when you win the lottery (or, hey, make partner after a ton of hard work!), stop here first. (I'd also call this "corner office chic"!)
Brands in this tier who might have a classic, simple suit: Altuzarra, Akris, Armani, Dolce & Gabbana, Escada, Joseph, Max Mara, Michael Kors, The Row, Saint Laurent, St. John,   
Keep an eye on designer stores for newer brands with designer suits, such as Farfetch, Matches, My Theresa, Net a Porter (as well as sister site The Outnet) as well as the upscale department stores like Neiman Marcus and Saks.
Pictured: Armani / Escada / Akris / The Row / St. John / Dolce & Gabbana
(Here's Part II where we look at the best suiting brands for plus sizes, petites, tall women, slow fashion suiting, and boutiques/independent brands)…
Ladies, what are your favorite suiting brands for basic, classic interview suits? For those of you who've bought suits for women across the different price ranges, what differences have you noticed in quality? What pieces are the most worthy to stalk at sales and on eBay?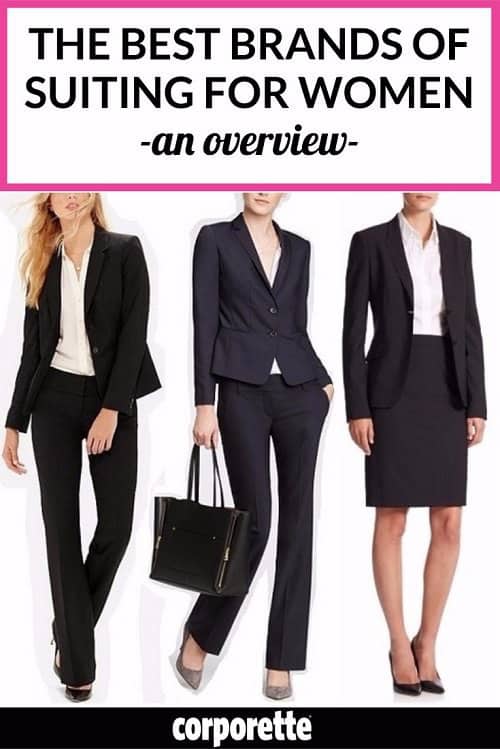 We are a participant in the Amazon Services LLC Associates Program, an affiliate advertising program designed to provide a means for us to earn fees by linking to Amazon.com and affiliated sites.