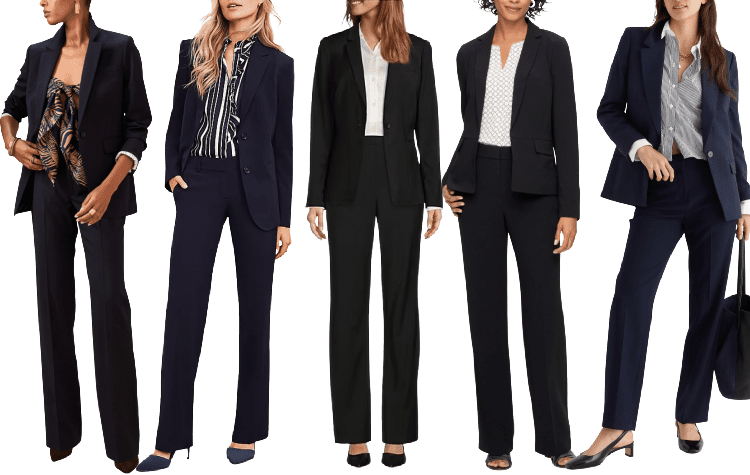 Our favorite mid-range suits for women as of 2023: one / two / three / four / five
Since interviews are starting, we'll stick with that theme and show you some great basic suits for women.
J.Crew offers wool gabardine and Super 120s wool, which means it's made with wool yarn that has been twisted more often than regular yarn and is therefore stronger, more durable, etc. Available in both pants and skirts. In our experience, J.Crew clothes tend to fit better on girls who are more straight than curvy. Price range is reasonable, around $300-$400 for a suit. Below: Super 120s Victoria Jacket, available at J.Crew.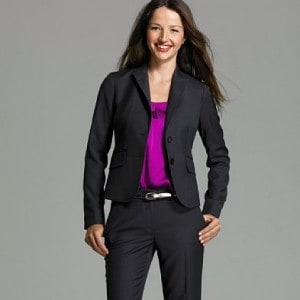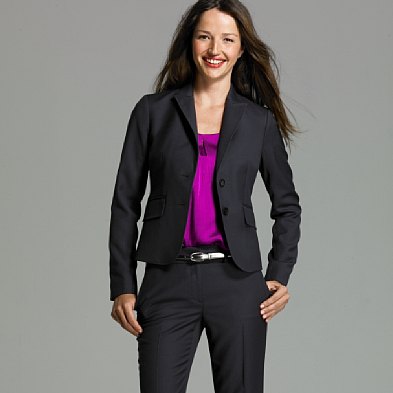 Ann Taylor has some nice triacetate suits. Yes, they're polyester, but they resist wrinkling, drape beautifully, and generally wear well. If you're curvy, Ann Taylor suits may be some of your best bets. They've got numerous selections in both pants and skirt suits. N.B. that, in general, a pencil skirt seems more professional to us than an A-line skirt, but work with what looks best on you. Price range is around $325 for both pieces, although you can occasionally find sales of 20-30% off. Be warned, sale shoppers — it's hard to find all pieces of a basic suit on sale if you wait for it to go 50% or more, so don't hold off too long. Below: Triacetate Pocket Mid-Length Jacket, available at Ann Taylor.
Banana Republic doesn't offer a skirt suit in the most conservative fabric (whaaa?) but they are great suits that wear well. These also tend to work well on curvy girls. Price range is around $325 for both pieces of a suit. Below: Lightweight wool Classic blazer and trouser, available at Banana Republic.
Department store brands – lower budget. There are a variety of brands that you can find primarily in department stores or discounters (Filene's, Loehman's, TJ Maxx, etc) such as: Tahari, Kasper, Calvin Klein, Jones New York, etc. In our experience these suits are usually made of polyester and may be slightly more uncomfortable to wear on a hot day — they also won't drape as well — but for an interview in a controlled environment like a hotel room, this should be fine. They cost about $300 on average, as well, but you can frequently find them on sale for $150 or under. Avoid details that make the suit look cheap — funny-looking buttons, too many flounces on the skirt, etc. Shown below: Tahari by ASL Snap Pant Suit
, available at Macy's on sale for $140:
Department store brands – higher budget. Elie Tahari, Theory, Rebecca Taylor, Nanette Lepore, Diana von Furstenberg — all these brands are things that are higher quality than your lower-budget brands, and will cost you $500-$800 per suit. Still reasonable, and if you don't mind spending the money they will last you a while.
Our tip: avoid anything too girly (which may mean Rebecca Taylor and Nanette Lepore are out.) Theory is known for their stretch wools and great fit. (Be warned: their sizing is different than the others. A size 4 in Ann Taylor could be a size 8 in Theory. Oh, bitter pill…)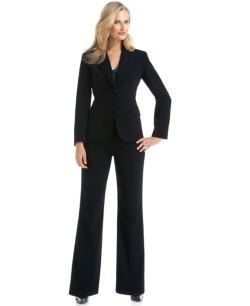 Break the bank: The Suit. In general, we don't recommend breaking the bank on a suit until you've been working for a few years (if ever). Armani, St. John's, Donna Karan, Jean Paul Gaultier, MaxMara… oh, the designers. These suits are beautiful, and hey, if you happen to have a spare $2,000 or $3,000 lying around, go for it. Our tip: If you DO have a spare $2,000 lying around, invest in a great bag or some great shoes — that will net you more compliments (and envy) from your interviewers than a great suit.
Below: Armani Collezioni Featherweight Wool Jacket, available at Saks