Sure, we all know what basics professional women are supposed to have in their closets, but if you're buying one for the first time or replacing one you've worn into the ground, it can be a pain to find exactly the right incarnation in stores. In "The Hunt," we search the stores for a basic item that every woman should have.
It's disgustingly hot outside, and linen trousers can be an absolute lifesaver in this sort of heat. Khaki and white linen is festive and seasonal but, let's face it, fraught with problems — do you really trust that you've found exactly the right pair of underwear to wear beneath them? Black linen pants are much less dicey, and hide wrinkles. They're a great way to survive the summer in style.
Some varieties, below:
This Dolce & Gabbana pair, above, is a great sale — formerly $684, it's now $445 at Yoox. There's even a Dolce & Gabbana Special – Shop the complete selection on YOOX.COM
This pant — the Lotta Stensson Linen Palazzo Pant in Black — is only $209 and can be worn either at the office or on a day at the beach. We'd wear them with flats instead of heels.
This pant, from Nordstrom's Classiques Entier Cinch Waist, has a nice high waist and is only $179.
We like the wide flare on these Kenneth Cole Reaction Linen Pants, for $79 at Nordstrom's.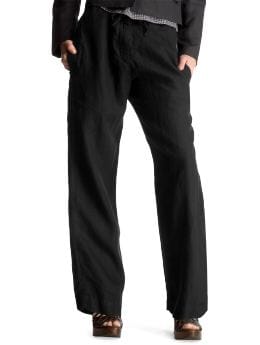 The Gap version — from its new European collection — is made from stretch linen and is only $49. (Note: it has a slim fit, so watch out — maybe get a size bigger.)