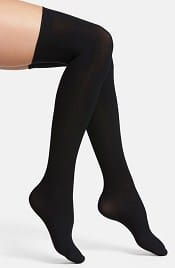 What if you like your legs covered when you wear skirts — or your office dress code doesn't allow bare legs — but you don't like wearing full pantyhose or tights? Are thigh-high stockings at work acceptable? Are some more appropriate than others? Reader N wonders…
I was wondering if you might consider doing a post on thigh high pantyhose that are functional and work appropriate. I hate the feeling of full pantyhose, but can't go without, so I want to try thigh highs but have no idea where to start. Thanks!
Great question! We've talked about how to care for pantyhose, whether you should wear them in the summer, how many workplaces still require them, the appropriateness of fishnets at the office, rounded up everyone's favorite lingerie brands, but not this. (Blast from the past: this 20-year-old Chicago Tribune fashion Q-and-A actually recommends layering opaque tights under thigh-highs.) I'm going to apologize in advance for the sure-to-be-interesting AdSense ads that will follow us all around the interwebs, but I do think this is an important and legitimate question for working women — I've had a number of friends who preferred thigh-highs for hygiene, comfort, or other reasons, and there's no reason they should be stigmatized.
The good news: it seems like there's a HUGE variety to choose from out right now, in part (perhaps) because over-the-knee boots are so popular. Thus, we're seeing a ton of "over the knee" socks and tights. Some of the bestsellers that I'm seeing:
Ladies, let's hear from you — what are your thoughts on thigh high stockings at work? Which are your favorite brands?