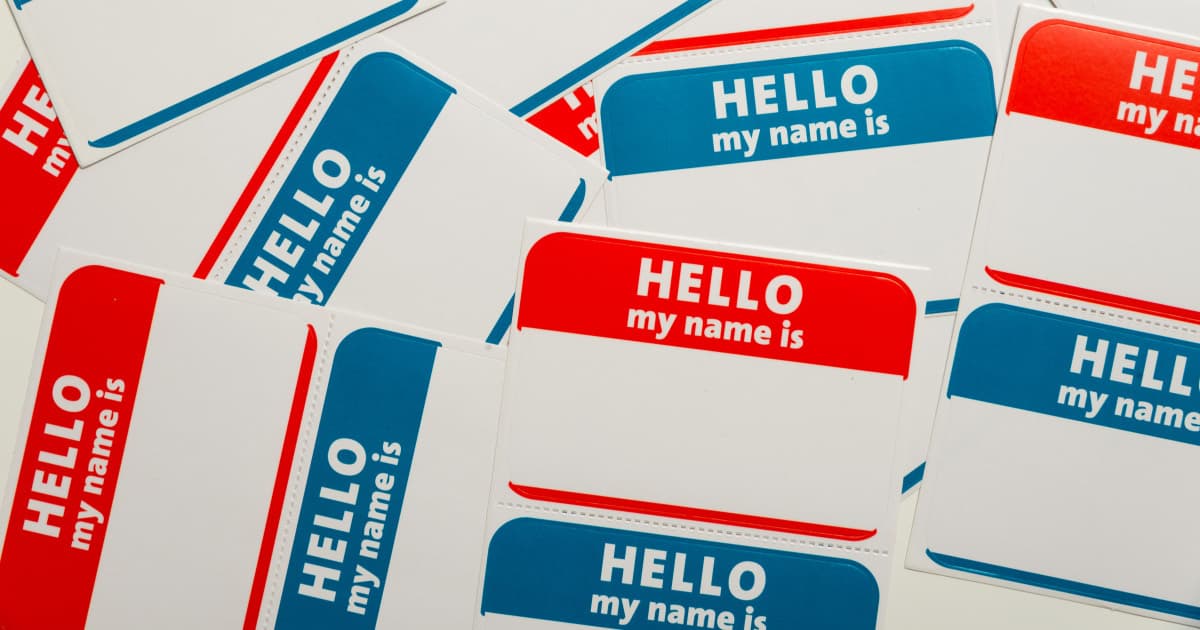 Ladies, what are your thoughts on how to change your name at work? If you changed your last name when you got married — or switched to a new name for any other reason, such as divorce — how did you let coworkers and other colleagues know? What did you do about your social media profiles?
(And, if you already had a professional identity and then took your partner's name, do you keep your maiden name on LinkedIn and Facebook even if you don't use it?)
Over at CorporetteMoms today, we're sharing multiple stories regarding deciding on baby's last name, so we thought it was a good opportunity to share some tips on how to change your name at work.
First, here are a couple of quick stats from several we shared in the CorporetteMoms post: Only 6% of U.S.-born, married women have "nonconventional surnames" — meaning they kept their name, hyphenated, or use two names, but about 20% of recently-married women have kept their surnames. In the post, you'll also be able to read some thoughts from the CorporetteMoms writers (Kat, Kate & April), as well as one of Kat's BFFs who really wanted her kids to have her last name.
Psst: Here on the blog, we've talked about hyphenated names and email addresses, getting called the wrong name at work (and being assumed to be a certain gender because of your gender-neutral name), choosing whether to change your name when you get married, post-divorce name changes, using last names at work, and how to get rid of an old nickname.
Here are some tips on how to change your name at work:
1. Send a brief mass email to coworkers and other professional contacts to tell them your new name and new email address. Make sure you're sending it from your new address (or at least that your new address is the reply-to). Note whether your old email address will forward to your new one. If the forwarding will continue indefinitely, and you make the recipients aware of that, they may never feel obligated to change your details in their contacts and may just keep using your old email (and maybe, name) forever — so perhaps it's best to be vague… Note: Before you get married, ask your IT department how much notice you'll need to give to get a new email address and set up forwarding.
2. Change your email signature. Everyone should be familiar with the format "Firstname (Oldlastname) Newlastname," at least for marriage name changes, and you should keep your signature looking like that for at least
3. Change your outgoing voice mail message and the recorded name you made for the phone directory. Check that your name is updated in any internal listings, too, such as as the company intranet.
4. Get a new business card and door/cubicle nameplate. Depending on the size of your company, it may take a while to get these changes made, so again, make sure to find out ahead of time how much lead time they need.
5. Update your LinkedIn profile and other social media accounts. For example, when you click to edit your LinkedIn profile, for example, you can click on "Add former name." If you add your original last name, your profile will now read "Firstname (Oldlastname) Newlastname." You can choose to have your name appear this way to (1) your connections, (2) your network (people up to three degrees away from you), or (3) all LinkedIn members. You should also change the URL for your LinkedIn profile.
6. Notify professional organizations and licensing boards. Tell other groups you belong to, as well, such as nonprofit boards, local committees, networking groups, alumni associations, and so on.
Don't forget to fill out a new W4, etc., and make sure HR makes all the necessary changes on their end, too!
If you've changed your name because of marriage or any other reason, how did you tell colleagues? If you changed your name when you got married but worried about losing the professional reputation and identity you'd built with your old name, have you continued to use it in work-related settings?
Stock photo via Deposit Photos / miflippo.