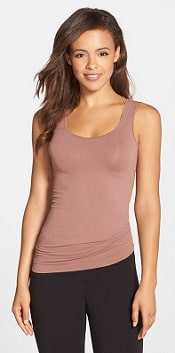 Which are the best camisoles to layer beneath blouses? Is a seamless camisole important, or a nude-for-you camisole? Or is a white camisole the best thing under a white blouse? Reader S has a question, and I thought it might be a fun topic because I've said before: I am a fan of plain, non-lacy white or black camisoles (with a nude-for-you bra) beneath sheer blouses, rather than "nude" camisoles. They make it clear to the non-fashion people you work with that it's safe to look at your blouse — a solid camisole avoids that weird Barbie look of "it's sheer and I think I see skin but there's no bra or nipple and I'm so confused…" I also think it streamlines things in your closet, because if you need a camisole to raise the neckline of a dress, you'd want a white or black one anyway. But maybe I'm in the minority. Here's S's question:
I recently got several lovely silk button up blouses. I love the feel and look, and the step-up in fabric. However, they are kind of sheer. I have been searching high and low, and can't find a good nude camisole that doesn't show all the straps and seams and edges under the silk, making it look cheap and not well put together. Not the look I'm going for. Why can't they make the camisole equivalent of these panties?

In addition, most of the "nude" camisoles I have found look like they're nude on a banana cream pie, but not on me. like this one (pictured at right).
I'll weigh in with a few answers for S, but I'm curious to hear what readers say about this whole issue. [Read more…]