Business casual can be tricky — particularly when you're transitioning from a conservative office. But what if the culture at your company isn't just business casual, but ultra-feminine business casual — and you're still most comfortable in a gray suit? When you're in a new job and feeling pressure to dress a certain way to fit in — even getting critical comments from coworkers — what should you do? Reader E wonders…
I recently relocated and am in the middle of a career change, and I'm really stumped about how to dress for work. I work in a business casual environment in a small, Southern city. Women tend to dress hyper femininely here: today my boss is wearing a pink ruffled tunic over flowy trousers with embellished flats. The job is entry level, but it's an important step career-wise. I'm all for dressing to fit with office culture. But, really, yikes.

Right now my pencil skirts, sheath dresses, flats, and cardigans are getting a lot of "why are you so dressed up?" and (from the office mean girl) "do you always wear such depressing colors?" I guess these are my questions: how far do I really need to go to fit in with office wardrobe culture? and how can I femme-up my wardrobe without looking like 5'10" wedding cake?
Hmmn. Well. It seems like a few things are going on here, some of which we've talked about before, such as transitioning a corporate wardrobe to a casual office, looking stylish and professional in a business casual office, as well as surrendering a bit to office culture (but as the song goes, don't give yourself away). I may also detect a smidgen of . . . judgment? superiority? in your email, which we've also talked about before when you take a job that's beneath you. I know all about finding your groove with one set of work clothes, having a rough time transitioning to a new office with a very different culture, and then feeling a bit like you've lost yourself in the process. So I definitely have some thoughts, but I can't wait to hear what the readers say.
Be you… but don't judge them for being them.  If you're more comfortable dressing up or maintaining a sleek, urban wardrobe, great! Your boss and colleagues prefer another style of dress. Since you're the interloper here… no judgment.
Generally it's best to try to align your style with that of your boss's style. Look to her first for cues on how to dress, not your other coworkers — so don't worry too much about what the office mean girl is saying. Bottom line: you don't want to be overdressed for your office.
That said, don't compromise your style and wear stuff you dislike — it's all too easy to feel a bit lost in the process. Pick a core thing that's you — the way you wear your hair, your distinctive eyeglasses, your favorite watch, and or your base structured wardrobe — and leave that part untouched.
Add a few key "business casual" pieces to your wardrobe. You don't need to look at it as "Project Femme Up," per se, but you probably do need to make it more casual. Make a shopping trip and look for the following things that YOU like: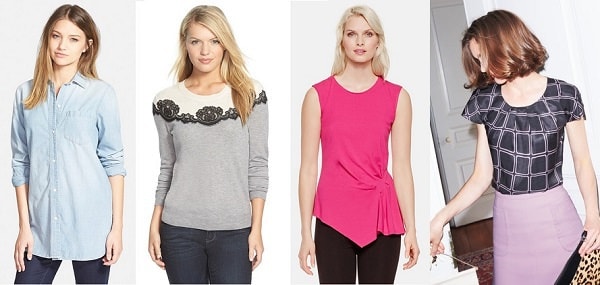 A note on adding color: It doesn't have to be pink, but don't be afraid of it if you find a pink piece you like. If you're used to a very conservative wardrobe, though, do consider looking at men's ties or men's shirts for color inspiration. Pale pink or lavender may say "Barbie" to you — but I've seen a million pink button-front shirts at men's stores.  Another thing that might work for you: switch your base color from black to white — or even black to navy.  Maybe it's just me, but if I think to myself, "I need a new basic shirt," I almost always buy it in black — t-shirt, sweater, blouse, whatever. But white can be a lot more friendly. As far as bottoms are concerned, again, if I need a new basic pair of pants, I look for it in black — but navy can be a lot more friendly as well; gray can also work well. For budget purposes, you may want to think about purposely creating a capsule wardrobe for work so everything goes together. (You also may want to shop your closet to see what you can repurpose.)
Readers, what would you do if you found yourself in a new company where your boss and colleagues dressed the opposite of you? How would you navigate the style transition and still hold on to a piece of yourself? 
—————
N.B. These substantive posts are intended to be a source of community comment on a particular topic, which readers can browse through without having to sift out a lot of unrelated comments. And so, although of course we highly value all comments by our readers, we're going to ask you to please keep your comments on topic; threadjacks will be deleted at our sole discretion and convenience. Thank you for your understanding!