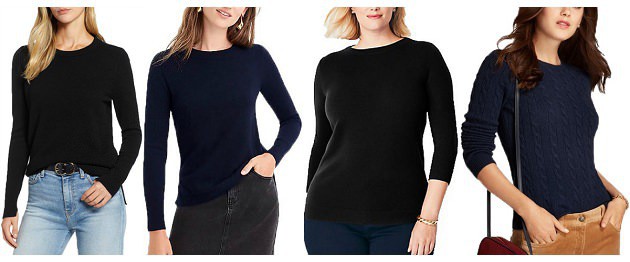 Sure, we all know what wardrobe essentials for work professional women are supposed to have in their closets, but if you're buying one for the first time or replacing one you've worn into the ground, it can be a pain to find exactly the right incarnation in stores. In "The Hunt," we search the stores for a basic item that every woman should have.
So we haven't talked about affordable cashmere for work in a while — let's discuss! I was intrigued, upon looking around at the stores, how many "weekend" options for cashmere there are. Hoodies! Boyfriend sweaters! Ponchos! Duster cardigans! If you want more of a classic, sleek look to wear with beneath blazers or on top of blouses (or both!), it can be a bit tricky to find them in stores right now. So we rounded up some favorites! Ladies, what sweaters are you reaching for the most on chilly mornings? Have you bought anything in years past that you still love — or have you bought anything recently that was a great find?
Pictured at top of post: one / two / three / four
Hall of Famers (specific styles that have stood the test of time, some pictured above): Halogen, J.Crew, Talbots, Brooks Brothers (cable knit, shawl collar), Lord & Taylor
Usual Suspects (reliable brands or stores to check first): Lord & Taylor, Halogen, Neiman Marcus, Everlane, Uniqlo
$100 or Under: (Everything pictured below is under $100!)
Where to Splurge: Brooks Brothers, Brora, Eric Bompard, InHabit NY, Loro Piana, Akris, TSE
Plus sizes: J.Crew, Talbots, Lands End, Bloomingdale's (sign up for our newsletter focusing on plus-size workwear!)
Petite sizes: Lord & Taylor, Nordstrom,
Curious for past iterations of this roundup? Here they are from 2017, 2016, 2015, 2014, and 2012.
Here are some of the great cashmere sweaters for work we're finding today…
This post contains affiliate links and Corporette® may earn commissions for purchases made through links in this post. For more details see here. Thank you so much for your support!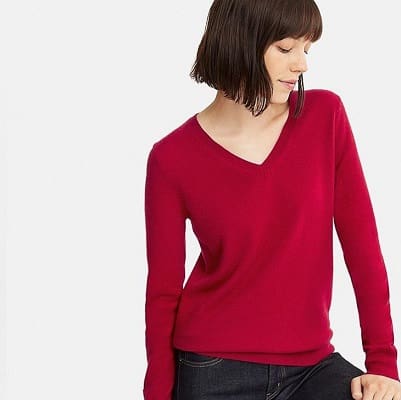 Pictured above: Uniqlo is always a great spot to check for affordable cashmere sweaters for work — they're warm, classic, and come in a zillion colors. (Pro tip: check out Uniqlo's Heattech line if you're looking for a lot of warm options, especially for commuting clothes!) The red V-neck pictured above is $79.90, comes in __ colors; the brand has similar options in a turtleneck, crewneck, and cardigan.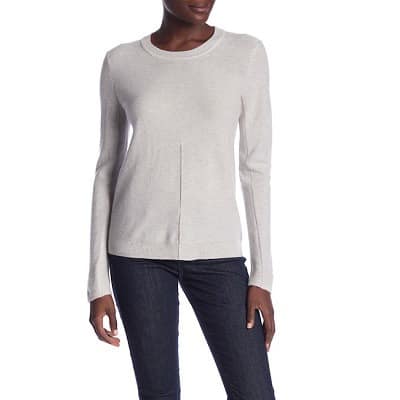 This sweater may look basic, but don't be surprised if it's one of the softest cashmeres you've felt — I was thrilled to find several Inhabit sweaters at Nordstrom Rack. The pictured sweater (above) comes in black in sizes XS-L for $79 (originally $368!).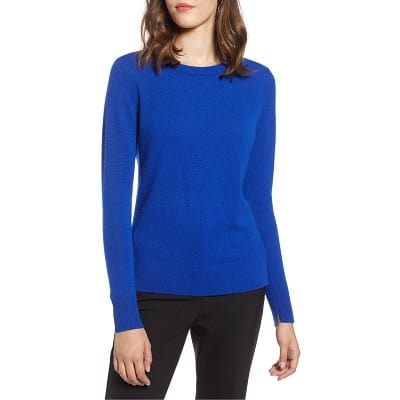 This Halogen sweater is only $89 and has close to 500 super positive reviews at Nordstrom. I love how simple it is — it's very easy to throw on beneath a blazer, add a statement necklace on top or a dickey beneath it (or an actual blouse!), and wear it to work. It comes in 8 colors, regular and petite sizes, XXSP-XL. The brand has a ton of more casual cashmere options as well.
For $99+, J.Crew has a ton of great "everyday" cashmere sweaters. (Sadly, they are all excluded from the 40% off promo happening today!) The sweaters are available in sizes XXS-3X, which is great; the pictured crewneck comes in 23 (!) colors. They've also got a great everyday cashmere turtleneck. (To discuss: are turtlenecks "back" in style or have I just not noticed how many there were in recent years? I've always thought they're a great basic look — certainly great background for a brooch or two! — but they felt like they were rarer in years past.)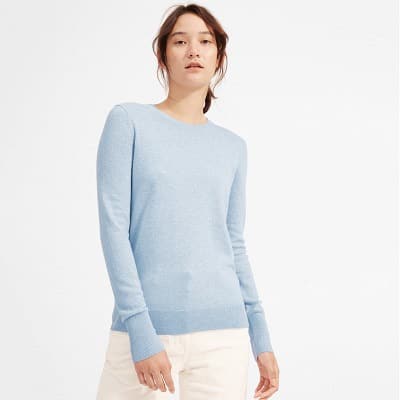 I often get asked about Everlane, and I will say that I've always been happy with their cashmere and merino sweaters — everything I've had has been great quality, and felt like a very current but classic take (so, for example, the longer cuffs here feel very au courant but the sweater itself is classic — not a ruffle in sight, thank goodness, and it's a polished enough look that you can wear it to work or on the weekend.) The pictured sweater is $100, comes in 18 sizes (including some fun stripey options), in sizes XS-XL.
Like this feature? Check out other recent installments!
This post contains affiliate links and Corporette® may earn commissions for purchases made through links in this post. For more details see here. Thank you so much for your support!