2019 Update: Hunting for stylish cashmere sweaters? You may want to check out our most recent roundup, with tons of classic cashmere sweaters for work.
Sure, we all know what basics professional women are supposed to have in their closets, but if you're buying one for the first time or replacing one you've worn into the ground, it can be a pain to find exactly the right incarnation in stores. In "The Hunt," we search the stores for a basic item that every woman should have.
Cashmere is a must for any working woman — it's warm (great for the freezing office!), a bit luxurious, and (shhh) usually Woolite/delicate-cycle friendly. We haven't done a roundup of cashmere sweaters in a while (2014, 2012), and so many of the great ones are on sale that I thought today would be a great day to discuss it.
Ladies, have you bought any great cashmere sweaters recently? Which are your favorite brands for cashmere in general?
Before we get to our featured cashmere sweaters for work for today, here are some of the greatest hits from our Workwear Hall of Fame – cashmere sweaters that have been around for years and are loved by all!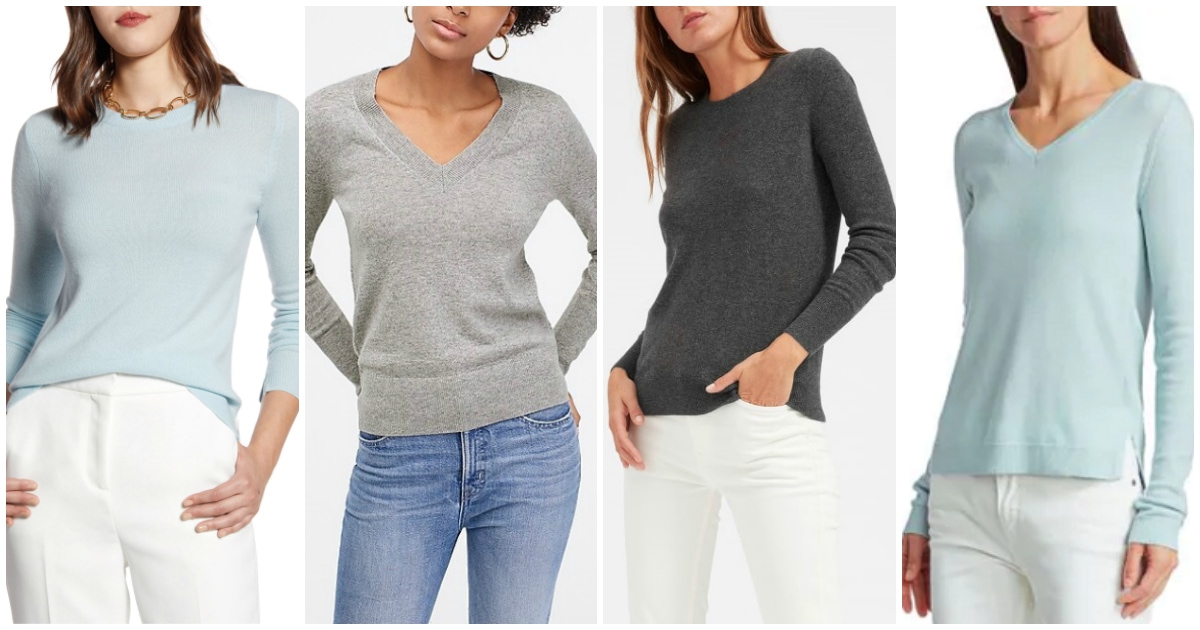 pictured above (2019 update): blue / gray V-neck / gray crew neck / blue

Yes, yes, I know I've posted this recently — but not only is it down to $51, but there are lots of sizes left in basic colors like black and gray. $51! Works for me. Talbots Audrey Sweater
I haven't tried C by Bloomingdales cashmere in years, but I am intrigued to see that it's a strong bestseller at Bloomingdale's — as in, the entire first two pages have barely any other brands. I like the look of this longish crewneck with generally great reviews, available in 9 colors, sizes XS-XL. C by Bloomingdale's Crewneck Cashmere Sweater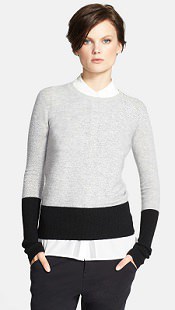 I got a Vince cashmere sweater for Christmas — loved the cashmere, hated the sweater itself (it keeps going deeper and deeper on sale, so I wasn't alone.) This cashmere crewneck looks like a much better bet — I like the look of it styled with a blouse beneath it, as well as by itself. It was $325, but is now marked to $150 at Nordstrom Rack. VINCE Colorblock Cashmere Crewneck Sweater
When I think "luxury that's worth it," I think of The Row. This simple, slouchy black cashmere crewneck is the kind of piece that — with proper care — you'll have in your wardrobe for 10 years at least. It's $1,390 at Net-a-Porter, available in black and gray. THE ROW Rose cashmere sweater
Like this feature? Check out other recent installments!