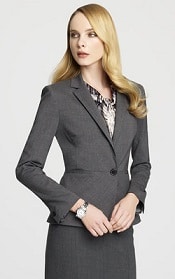 2018 Update: While we still love a great charcoal suit, you may want to check out our roundup of the best women's suits of 2018.
Sure, we all know what basics professional women are supposed to have in their closets, but if you're buying one for the first time or replacing one you've worn into the ground, it can be a pain to find exactly the right incarnation in stores. In "The Hunt," we search the stores for a basic item that every woman should have.
Charcoal suits are one of the great basics for working women — particularly for interviewing. A nice dark charcoal in a seasonless wool can be worn with almost any color, but they look particularly great with white and pastel button-front blouses. Even though interview season is coming up, a lot of stores don't have any gray suits available online as of this writing (e.g., Ann Taylor, Brooks Brothers, Reiss, Talbots), so perhaps check again in a few weeks if you're on a personal hunt and none of the below fit the bill.
Readers, how do you like to wear gray suits the best — with pastels? With jewel tones? Worn as separates?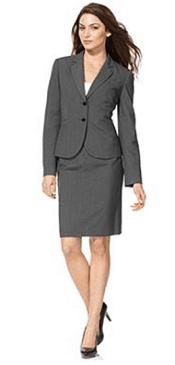 I've said it before, I'll say it again — the EDV line at Macy's is a great place to start your hunt if you're on a budget. This Clavin Klein blazer has a hint of stretch, as well as a matching belted sheath dress, pants, and pencil skirt, all priced between $54 and $90. Calvin Klein Stretch Blend Suit Separates Collection
Readers always sing the praises of Pendleton's seasonless wool suiting. I like that this suit is available in regular and petite sizes 2-18; and there are two matching skirts (Lana and Madison), matching trousers, and a one-button blazer as well. The pictured blazer is $228 (some colors as low as $113). Seasonless Wool Suit Jacket
As mentioned, a lot of the usual suspects are missing from this Hunt because they're not offering gray suits online right now — even Theory gray suiting is in short supply. J.Crew has this slightly lighter gray available right now, "heather flannel," in their seasonless super 120s fabric — it's available in sizes 00-16, priced at $230. 1035 jacket in Super 120s
Yoox has a lot of great suits right now, for fairly reasonable prices (although they are sold as a set, so you can't get different sizes on jacket/bottoms). I like this gray Mauro Grifoni suit in "lead;" note that it also comes in military green and black. It's $559 at Yoox. MAURO GRIFONI Women's suit
Like this feature? Check out other recent installments!
(L-all)
We are a participant in the Amazon Services LLC Associates Program, an affiliate advertising program designed to provide a means for us to earn fees by linking to Amazon.com and affiliated sites.