2018 Update: If you're looking for a great selection of navy suits for women, check out our roundup of the best women's suits of 2018.
Sure, we all know what basics professional women are supposed to have in their closets, but if you're buying one for the first time or replacing one you've worn into the ground, it can be a pain to find exactly the right incarnation in stores. In "The Hunt," we search the stores for a basic item that every woman should have.
As law and MBA students everywhere gear up for interview week on campus, I thought we'd round up an interview classic: navy suits. Somewhere down the line, the navy suit became known as "THE power suit," and I remember wondering whether I could wear a black suit or a gray suit for interviews. The answer: sure you can. But a navy suit is still a great thing to have, so I thought I'd round up some for today's Hunt. Readers, what is your favorite suit color for interviews? Have you ever had a bad experience (either as an interviewer or interviewee) with someone in a black or gray suit? (Psst: check out The Corporette Guide to Suits for more suiting advice.)

I often advise against buying a suit that's sold as one (a single price for the whole suit) — but if you're bargain shopping, this may be the first line of attack. For example: this Tahari Arthur S. Levine Four-Button Skirt Suit, which was $280 but is now marked to $56 at Lord & Taylor – try promo code STYLE to take an extra 15% off sale items. Tahari Arthur S. Levine Four-Button Skirt Suit
In the spirit of full disclosure: I did work with Anne Klein a few years ago to help promote, in part, their EDV line at Macy's. But I still honestly recommend them — the "every day value" lines from a bunch of different brands (Anne Klein, Calvin Klein, etc) are great places to start if you're looking for basic suiting separates. This Anne Klein set comes with a one-button blazer for $99.98, straight-leg pants for $64.98, and a pencil skirt for $54.98, all available in "midnight sky." Anne Klein One-Button Blazer & Classic Pencil Skirt
Ann Taylor or Banana Republic are the first places a lot of women get their first suit, and true to form, both have navy suits for sale right now. Note: some of these are online exclusives, so be sure that you're ordering matching pieces — for example, this jacket from Ann Taylor is described as being tropical wool, the color is called "dark navy" and it is style # 281046 — you can tell it matches the Savoy skirt because that also is described as "tropical wool" (you can also look at the fabric composition to see if it's the same), has a similar style number (#282134) and is also described as being "dark navy." The jacket is $198, and the skirt is $108.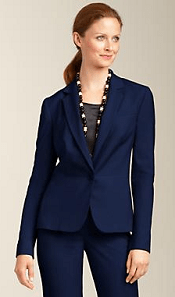 I've been impressed with Talbots' suiting options — and they have so many different pieces for each suit set that you can really get a lot of variety. I've featured the Grace Fit single-breasted seasonless wool jacket here, but there are four other blazers in seasonless wool, as well as wideleg, bootcut, straight pants, three kinds of skirts, and a wool vest. Not too bad. The jacket is $199; the other pieces range from $99-$199. OH: And most of the pieces come in sizes for regular, petites, talls, woman, and woman petites. Talbots Kate Fit Seasonless Wool Notched-Collar Jacket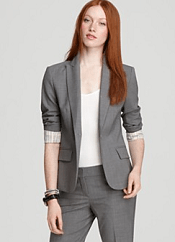 Theory suiting is a classic, and a lot of women buy this for their first "good" suit. Bloomingdale's has the Gabe blazer in indigo for $395, and matching Max C pants for $265. (It's also available in black, charcoal, and light heather, pictured here.) Theory "Gabe" Blazer
Our most expensive option today: this lovely BOSS Black suit, available at Saks. The jacket is $575, and the bootcut pants are $275. I like that both have a bit of stretch to them. BOSS Black Button Closure Stretch Jacket
Like this feature? Check out other recent installments!