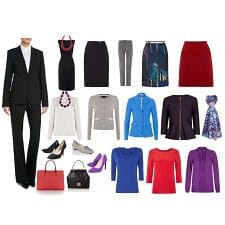 How can you make professional, stylish work outfits using suit separates? What are the do's and don'ts of combining parts of the suits in your closet? Reader A asks…
I'm a 2nd year law student in New York and will be starting work at a firm this this summer — I used your tips and articles throughout the interview process. I would love to hear your thoughts on this: Can I wear suit pieces as separates? For example, can I wear my gray suit pants with a white shirt and then a black blazer?
Great question, and one we haven't talked about in a while. (For other work outfit ideas, check out this post on building a capsule wardrobe for work, or this old post on building your professional wardrobe.) You absolutely can wear your suit pieces as business casual separates — that's part of why a suit with separates is such a great investment to make. Here are some suggestions for creating your work outfits:
Readers, what are your thoughts on using suiting separates to expand your wardrobe?
—————
N.B. These substantive posts are intended to be a source of community comment on a particular topic, which readers can browse through without having to sift out a lot of unrelated comments. And so, although of course we highly value all comments by our readers, we're going to ask you to please keep your comments on topic; threadjacks will be deleted at our sole discretion and convenience. Thank you for your understanding!