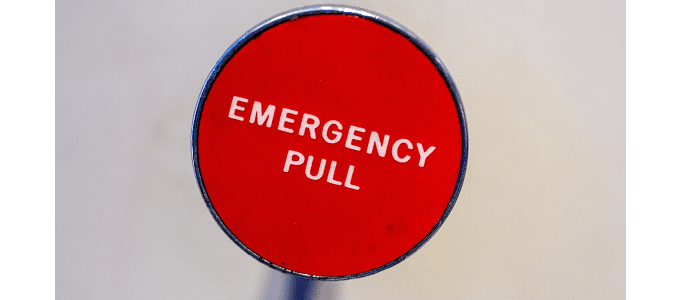 I'm going to caveat this reader question and my response — ultimately about workplace emergencies — by noting up front that yes, we're going to talk about some of the tiny, minuscule details regarding working in such trying times, namely how to look professional while also being prepared to, you know, run and hide at any moment.
You can't talk about this stuff without acknowledging the bigger issues — the terror and high alert we all live in, the strength of the men and women who work through the fear, and what many see as lackluster laws and/or enforcement. But then again: this is a fashion blog, not The Atlantic — so let's talk about workplace fashion as it relates to workplace emergencies.
Here's Reader A's question:
In light of recent events, my workplace held an active shooter training that was both terrifying and thought-provoking. The leader suggested, among other things, that employees make sure to carry their home/car keys and cell phone on their person at all times (as opposed to in your purse/bag). This isn't hard if you consistently have pockets — but I wear a lot of dresses and skirts that don't have pockets. I was wondering how others might manage this situation.
We live in such crazy, difficult times right now — I'm simultaneously glad for Reader A that she had some training and sorry she was terrified. I remember summering at my law firm in 2002 (in the Financial District, walking distance from Ground Zero); we were advised to keep sneakers in our office and were given a lunch bag with things like an emergency blanket and a protein bar.
These days, it creeps me out that my son's pre-K says they have an emergency shooter plan (but hooray for prep?). As far as being prepared for emergencies at the office — we've talked about attractive ID holders before, as well as emergency preparation — and even about professional pants with pockets — but not in a while, so let's discuss.
(Update: check out our roundup of sleeved dresses with pockets, too!)
Psst: As of 2023, many of the best work dresses have pockets, including M.M.LaFleur, J.Crew, and Boden — Nordstrom also has a bunch!
I'm curious to hear what the readers think, but here's my advice:
Keep something with pockets to wear at the office that you can throw on over everything. This is more difficult for women (at least, those of us not doctors) because finding garments with functional pockets is no small feat. (And even if you can find them, the pockets are often too small for much more than a single key, tube of lipstick, or, hey, a tampon — things like a clunky iPhone or a jangly keychain* don't always easily fit inside.)
That said, several of the longer cardigans that are in right now have big pockets — such as this J.Crew Factory one or this J.Crew one.

Another idea: seek out blazers with patch pockets, which usually are meant to be functional.
Some of our favorite blazers to wear as separates include: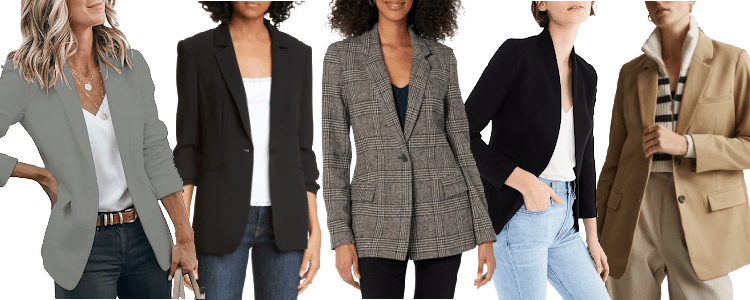 Of course, you can also search Nordstrom for dresses (or pants, or jackets) with pockets; this reader favorite Lands' End dress also comes with pockets. (Here are my previous thoughts on what to look for in that "blazer you keep at the office.")
Carry a zippered office padfolio as your notepad. This was my solution, at least for days where I knew I'd be working in a conference room or something and wanted to bring the same personal supplies with me every time, like my phone, lip gloss, tape flags, Post-it notes, etc. It was kind of like a grown-up version of a Trapper Keeper, but I thought looked pretty professional, and it was easy enough to carry with me.
Psst: Check out some of our latest favorite office padfolios as of 2023, below! If you want something monogrammed, check out Leatherology, Levenger, or (for a splurge), Smythson. (Slightly different, but similar: This gusseted document and laptop holder from Leatherology is also lovely; Cuyana also has something similar!)

Find a smart phone wristlet. I've often touted wristlets as being great for running to a local spot for lunch, but they would also work in this situation; an envelope clutch could also work. A more trendy version of the wristlet, of course, is the crossbody (or if we REALLY want to talk trendy, the fanny pack) — but know your office before going for either of those options.
A note on shoes. I never think anyone should wear shoes they can't walk in — if you happen to work in a high-risk area (such as near a potential big target like a tourist spot or well-known building, or in a public space, such as a law school library or a hospital), you definitely should consider your footwear. And everyone should keep at least one pair of old sneakers in the office, as well as socks or whatever else you need to make them comfortable.
These won't compare to a pair of sneakers at ALL, but if you travel often for work you may want to consider keeping a pair of foldable flats on you, like these:

Ladies, what are your thoughts on looking professional while also being prepared for potential workplace emergencies? Have you changed anything about your outfits (shoes, pockets, etc.) to definitely make yourself more prepared?
Are there particular days of the year that you feel most vulnerable and dress differently (e.g., September 11 or April 20)? In general, how is your anxiety level — what are you (and your office) doing to make your office a safer place?
*A lot of car dealerships sell extra keys (even fancy car keys with chips in them) for a fee; it may be worth it to just have a single key on you at all times. Here's a Reddit thread on ways to do it more frugally, though.