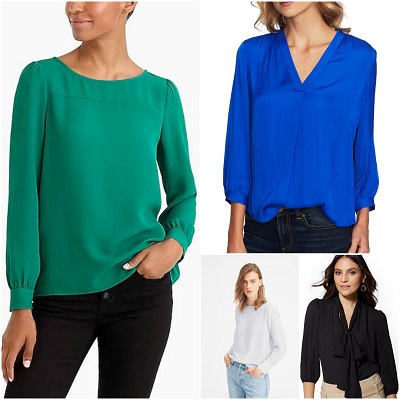 Sure, we all know what wardrobe essentials for work professional women are supposed to have in their closets, but if you're buying one for the first time or replacing one you've worn into the ground, it can be a pain to find exactly the right incarnation in stores. In "The Hunt," we search the stores for a basic item that every woman should have.
Not to feed the trolls, but: there's been a lot of talk lately in the comments about what blouses look best under suits. There's also been a lot of talk about whether button fronts look dated. For my $.02, I would argue that both are classic looks — but they can be difficult to get the fit right, plus they require dry cleaning and/or ironing or steaming… so of course a lot of women do choose easier care blouses and tops, with less opportunity for gaping. There happen to be a TON of styles for modern blouses under suits right now that are super affordable, versatile, and easy to launder — so let's round them up!
Note that we still stand by the recently updated Guide to the Best Tops for Under Women's Suits, as well as our older roundups of the best dress shirts for women, the best silk button-fronts, and the best busty blouses — we've also got some great tips on the best solutions for gaping shirts if you do want to go with a button-front look.
Before we get to today's featured styles, here are some special categories…
Here are some of the best modern blouses for under suits that we're seeing today…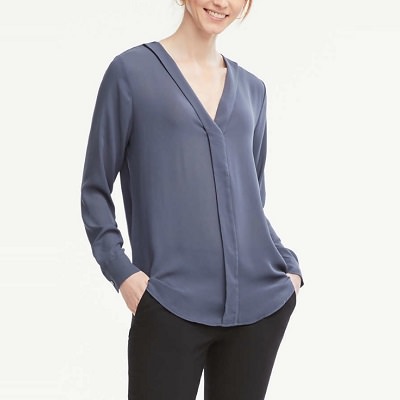 Ann Taylor Factory has this great mixed media top for only $17.99 (down from $59.99) — it comes in three colors, sizes XS-XL, and it's machine washable. At sister site Loft there are several similar split-neck tops (in a bright white, a dark green, a pink polka dot, and a stripe) that are also machine washable and only $29-$39.
Readers have sung the praises of this boatneck top at J.Crew Factory for a long time — I like that it comes in sizes up to 3X and is only $32 today (down from $64.50). There's even free shipping today.
I tend to have mixed feelings about secretary blouses or "pussy bow" blouses — it can feel difficult to get the tie just right! — but this affordable and machine washable option at New York & Co is getting a lot of good buzz, comes in four colors and petite and tall sizes for $44.50. Today it's 40% off.
Express can be hit or miss as far as workwear goes, but this romantic blouse is only $49 and reminds me of ones I've seen for three or four times that. I like that it's machine washable and available in sizes XXS-XL. I get it if you're avoiding actual button fronts, but this one is super cute with working buttons.
It's hard to go wrong with Vince Camuto blouses — this "rumpled satin" one has a nice texture and sheen to it, and comes in a zillion colors and style options, including plus sizes. Around the same price range are Hinge blouses, which we've featured a bunch. (If you like the satin look this J.Crew one also looks nice.)
Everlane's silk blouses have always been really popular with readers, and their new "clean" silk blouses are eco-conscious. They're available in sizes 00-16 in five colors.
Ladies, what are your favorite modern blouses for suits? What brands are your favorites for regular wear, and what are your favorite splurges?
Like this feature? Check out other recent installments!
This post contains affiliate links and Corporette® may earn commissions for purchases made through links in this post. For more details see here. Thank you so much for your support!