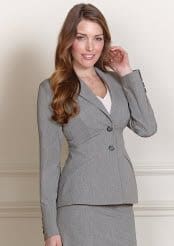 2017 Update: We still stand by this advice below about busty blazers, but you may also want to check out our more recent roundup of the best dress shirts for women with large breasts — several of the companies listed also make blazers!
Which are the best blazers if you're small and busty?  Reader K wonders:
One of my biggest obstacles when it comes to finding business appropriate clothes are my breasts. I feel like it's impossible to find a jacket or blouse that won't either pull or else drown me. Either my jacket is so big that I can't find my arms (and definitely not my waist) or I can't close it over the girls. I'm a 32G (by nature, not by choice) and a size two everywhere except my chest. I would like to look both professional and not like a child wearing her mom's jacket. I work in banking, so jackets are a must. (And yet, I'm young enough that I don't have the kind of funds to have tailor made clothes.) Am I all alone in the world? Is there anyone out there who makes professional clothes for small women with large breasts?
Interesting.  We've talked about whether jackets must button to "fit", how to dress professionally with curves, where to get blouses for the busty, and even how to find such clothes on a budget — but not how to find blazers that fit an hourglass frame. In our last thread on the best suits for small women, Theory seemed to be the winner, which you may want to try — but I've never found the brand to be particularly curve-friendly. (If you're petite as well as small-statured, here was our more recent thread on the best workwear for petites.) I'm curious to hear what the readers say, but here are some thoughts: