Which are the best women's suits of 2018, whether for a stylish interview outfit, a power suit, or some other major career event? (Or, hey: a simple, chic suit often makes a great work outfit all by itself!) We've recently updated The Corporette Guide to Interview Suits, but we haven't talked about the best suits for women in ages (aww, here was one of our first discussions on suiting basics for women!) so I thought we'd do a roundup. (We'll also be updating our guide to plus size suits, petite suits, tall suits, and more in the coming weeks as well!) Readers, which are your favorite interview suits right now? What do you consider to be your "power suit"? What are you looking for in a suit in 2018?
(June 2018 Update: Check out where to find stylish plus-size suits for work! Looking for petites? Check out our roundup for where to find stylish petite suits for women.)
First, some general tips on what to look for in a great suit:
Looking for older versions of this post? Here's our roundup in 2016, 2014, 2013, 2012, 2010, and (aww) 2008.
We'll put a few handy pins at the bottom of this post for you with general prices for suiting alterations and general advice for what to wear on interviews. But first: on to our roundup of the best women's suits of 2018!
Affordable Suits For Women
All of the suits in this tier are generally under $250 for two pieces. Note that the two big risks with a budget option will be frumpiness on one end — and "sexy secretary"/ formality problems on the other. Try to look for a material that drapes well, doesn't wrinkle, isn't too seasonal (such as a cotton suit — a tropical wool or triacetate will go farther) — and be wary of trendy cuts like collarless jackets, huge slits in your skirt, cropped pants, and more.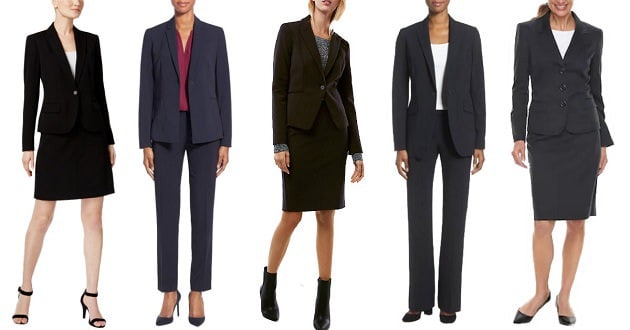 Pictured above: skirt suit /  pants suit / skirt suit / pants suit / skirt suit
Mid-Range Suits For Women
These suits are reliably under $500 for two pieces — but they're going to be a bit higher quality than more affordable suiting options in the first tier.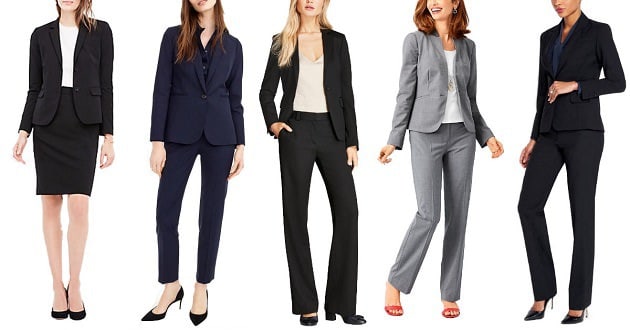 Pictured: skirt / navy / black / gray / navy
Investment Suits For Women
I also call this category "fancy affordable" — they're expensive, but generally worth it if you wear a suit a lot. For many women this is going to be the first "splurge" suit — two pieces will cost you more than $500, but less than $1000.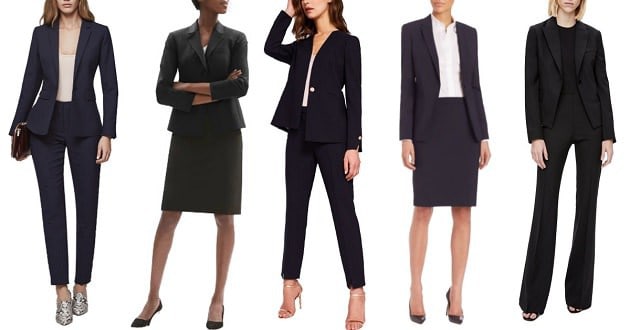 Pictured above: pant / skirt / pant / skirt / pant
Designer Suits for Women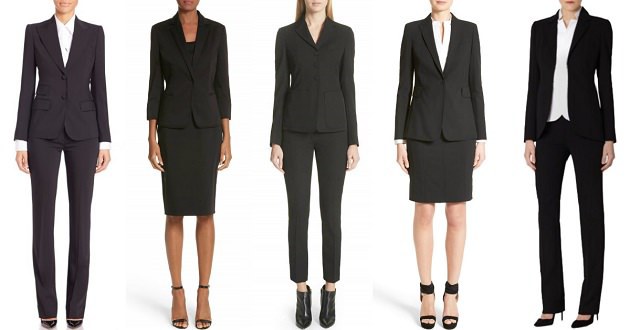 Pictured: Dolce / Max Mara / Burberry / Akris / Escada
All of these brands are classics for designer workwear — when you win the lottery (or, hey, make partner after a ton of hard work!), stop here first. (I'd also call this "corner office chic"!) Brands in this tier who might have a classic, simple suit: Altuzarra, Akris, Armani, Dolce & Gabbana, Escada, Joseph, Max Mara, Michael Kors, The Row, Saint Laurent, St. John,   Keep an eye on designer stores for newer brands with designer suits, such as Farfetch, Matches, My Theresa, Net a Porter (as well as sister site The Outnet) as well as the upscale department stores like Barneys, Neiman Marcus, and Saks.
(Stay tuned for an update to Part II where we look at the best suiting brands for plus size suits, petites, and tall women!)
Ladies, what are your favorite suiting brands for basic, classic interview suits? For those of you who've bought suits for women across the different price ranges, what differences have you noticed in quality? What pieces are the most worthy to stalk at sales and on eBay?