We plan to revisit the text of this page from time to time; in the meantime please add your own comments about tops to wear underneath suits. Please keep all comments on this page strictly on topic. Last updated: April 2018.
We've had numerous discussions on this blog about which blouses look best under suits. The general consensus is that a well-made, opaque t-shirt in a high-quality material can be a great layering piece, that a no-button blouse can be a flattering, forgiving option (particularly for women who tend to have gape problems with buttons), and that button fronts are always a good way to pump up the professionalism of a look (but require more care).
T-Shirts
T-Shirts for Work
T-shirts are great in summer, of course, but they're also great for layering under cardigans and blazers as seasons change. Some of our favorite tees for layering include: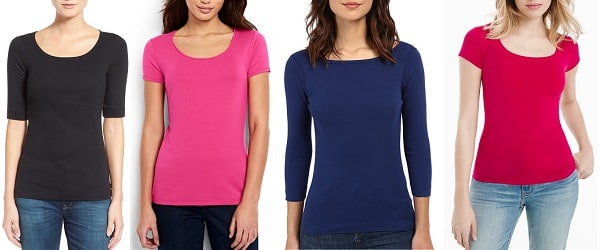 Above: black / pink / blue / red.
In general, if you can wear a particular t-shirt with workout pants, it should not be worn to the office. T-shirts with sleeves are preferable under suits (versus tank tops or shells) because they a) allow you to take off your suit jacket, even in the most conservative of offices, and b) help you increase the number of times your suit can go without being drycleaned. They're also easier to throw in your regular laundry versus a blouse that needs special care. For my $.02, they can be an appropriate choice for interviews and big meetings (court appearances, etc) but note that not everyone feels this way. If you're wearing a simple t-shirt, be careful with your underpinnings — your bra should not show through the shirt at all, either in terms of the pattern on the bra or the texture of the bra (such as lace). I'm a big fan of "t-shirt bras" for most office wear!
Fancier T-shirts: In an ideal world, the t-shirt would be a bit fancy — perhaps it's made of a stretchy silk jersey (or even a silk knit), perhaps it has a button at the base of your neck, perhaps it has an interesting, blouse-like pattern. In general, you may want to avoid shirts with rhinestones or beading — not only are they unacceptable for most conservative offices, but the weight of the beads or stones invariably makes the shirts heavy, affects the way they hang (a scoopneck with beads can be almost obscene), and makes laundering difficult. You should be on the lookout for t-shirts like this at any number of places, from bargain spots like Old Navy, to the usual suspects like Ann Taylor, J.Crew, Loft, Express, JCF, Talbots, and Banana Republic.
Pictured above (exact top may or may not still be available): Lafayette 148 New York,Milly, Halogen, Boss
Sleeveless Tops for Work
Sleeveless tops, shells and blouses can be great alternatives to sleeved blouses and tees, particularly if you want a layered look with clean lines. These are some of our favorites — you can see our whole roundup of sleeveless tops.

Pictured above, $15-$178: white / pink / white / navy / white / purple
Plain T-shirts: Sometimes basic, solid-colored t-shirts are just what the doctor ordered. They can be great for days when you want to wear a bottom layer to make laundering easier (i.e., underneath a dryclean item such as a cashmere sweater or a suit jacket) but don't plan on showing off that base layer. They also can be great for days when you want to put the focus on accessories, and wear a statement necklace or a colorful scarf with your blazer or suit instead. Readers have noted the following brands as good bets. Where a certain shirt may be available in other sizes, it's marked with a P (petites), T (talls), and/or X (plus sizes):
Bargains: Kohl's Croft & Barrow Essential Tee (P, X), Halogen® (P, X), Everlane, Lands' End (P, T, X)
Mid-Range: J.Crew Perfect-Fit Tee, Club Monaco, Garnet Hill, Boden, Eddie Bauer (P, T, X), Splendid
Splurges: Michael Stars, Three Dots, Theory, James Perse
Blouses without Buttons: Some blouses are cut like t-shirts — they're made from a lightweight silk fabric (not a silk jersey, which is a lot more fitted) or a cotton. You can find these at a number of stores, including French Connection, Madewell, and Eileen Fisher. The Ravello t-shirt from Boden is a particular favorite.
Button-Front Blouses
Crisp Button-Front Blouses for Work
A crisp women's dress shirt is a great layering piece for beneath a blazer, a sweater, or more. If you find that button downs don't work with your bust, but still want to wear them, do check out our roundup of boutique shops specializing in busty blouses — you can also check out our advice on how to wear a button-front to work. If you prefer a silk button-front, scroll down…

Pictured above: pink / stripey / blue / white / blush
Simple Button-Front Blouses:  To me, there are two category killers here:  Brooks Brothers
(if you want iron-free) and Thomas Pink (regular cotton and silk, but made so well). There are a number of brands that focus on tops for larger busts. Similarly, Charles Tyrwhitt is another traditional men's outfitter (like Brooks Brothers and Thomas Pink) that now caters to women. On the more bargain end of the spectrum, both Loft, Ann Taylor, make simple button-front blouses that have a more fitted look.
Fancier Blouses: I would probably think of Equipment, Diane von Furstenberg
and Tucker
as the major players here, but watch our daily TPS reports — we frequently feature blouses. Some brands, such as Anne Fontaine, specialize in one thing: the white blouse. Also worth checking out: Boss Hugo Boss, Vince, Theory, L'Agence.
Silk Button-Front Blouses
Another stylish option: the silk button-front. These can be easier for layering beneath a suit, cardigan, or more — but be warned they can be higher maintenance.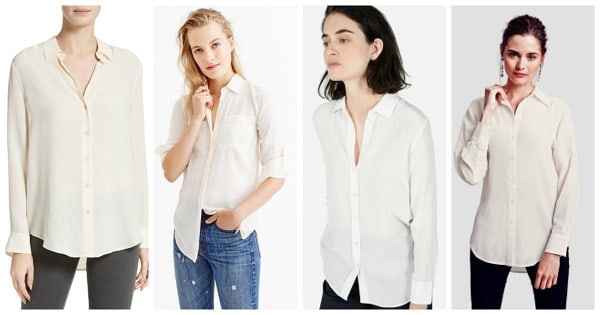 Pictured above, some of our favorite silk button-front blouses, $88-$214:  one / two / three / four.
Finally:
Readers:  What are your favorite perennial purchases for t-shirts and button-front shirts? What makes a t-shirt appropriate for the office, or makes you absolutely love a button-front shirt?
Also, please don't forget to check out other Corporette shopping guides!